LED Backlight for Image Stability and Energy Saving
LED backlight system provides more stability in images as well as energy saving. Compared to the conventional CCFL backlight models, MS55i2 saves about 20% energy and will hold brightness much longer. Additionally, mercury-free LED backlight contributes to reduce the environmental impacts.
Built-in Sensor
The luminance sensor in front constantly monitors and accurately stabilizes luminance on the screen to optimize image quality.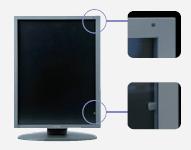 Ambient light sensor
An ambient light sensor is built-in so that calibration appropriate for the effects of ambient luminance is carried out.

Luminance sensor
The luminance sensor attached in front of the screen constantly monitors and accurately stabilizes luminance on the screen surface by sending feedback to the control circuit.


Remote Calibration
DICOM calibration and conformance check can be remotely performed. These remote management features will minimize the burden of system administrators.
* Optional PM Medivisor software is required.

DICOM Conformance Check
User friendly OSD functions include DICOM conformance check function.
Display Quality Control
The Medivisor Series software is user friendly tool to effectively manage JVCKENWOOD's displays. Calibration software Medivisor Nx, quality assurance software QA Medivisor and performance monitoring software PM Medivisor interact closely with each other to help system administrators easily manage all JVCKENWOOD's displays in the network.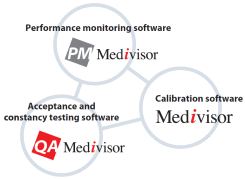 Special AR Coating for Film-like Black and Improved Sharpness
JVCKENWOOD's new special AR coating technology addresses properties of focus, noise reduction, contrast and viewing angle achieving film-like black and accurate reproduction of images.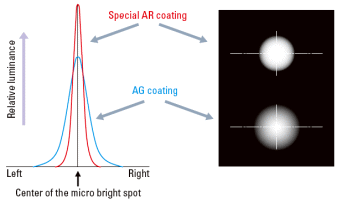 Next Generation Interface - DisplayPort
In addition to a DVI port, MS55i2 has a new digital display interface "DisplayPort". When using the DisplayPort, up to 1024 or 10 bits shades of gray are simultaneously displayed.
* Customized viewer software and graphics card are required to display 10 bits images.
Uniformity Equalizer
Luminance uniformity correction system will produce stable images across the screen.
* Images shown are for illustrative purposes only.
User-selectable Display Configurations
Luminance/gamma settings are selectable from three preset settings.
OSD Information Display
Current status of the display such as total operating hours, actual measurement of luminance and calibration settings are shown on the screen at fingertips.
Display Status Indicator
Current display operating status can easily be checked by the front LED indicator.

Ecological Technology – Considering the Global Environment
JVCKENWOOD is committed to providing high performance display systems that are ecological and environmentally friendly. We strive to create green IT initiatives and be a part of building a clean energy future. In effort to achieve this, we have incorporated several new features in the i2 series displays. Advanced power saving function dims the backlight as the screensaver activates, thereby reducing power consumption and preventing unnecessary backlight deterioration, resulting in a longer lasting display. The internal power supply system includes a new improved power save mode, which allows the display to enter standby mode with less than 2 watts of energy consumption.

* Optional software Calibration Kit is required to set up the Advanced Power Savings feature.