TRANSLATION - FOR REFERENCE ONLY -
NEWS RELEASE
Development Announcement
September 30, 2009
Clear radio broadcast in poor reception areas and reception of additional data


JVC Kenwood Develops M-LinX(Tentative),
a New Service of the Digital Network Era

JVC KENWOOD Holdings has developed a new network service of the digital era called M-LinX(Tentative), which combines communication technology and broadcasting to offer clear radio broadcasting without noise and has a high potential as a new medium thanks to the possible provision of additional data.

In the future, we intend to conduct various demonstration tests in cooperation with radio stations, service providers, advertisers, and other parties in preparation for the start of this service next spring.
Overview of the Development of M-LinX(Tentative)
1. Clear radio broadcasts even in areas with poor reception due to radio disturbances
Our proprietary service area limitation technology allows users to enjoy the same sound quality as FM/AM radio broadcasting by making use of the Internet network.
This technology also provides clear radio broadcasts without noise even in areas that have poor reception because of various radio disturbances, such as those caused by high-rise buildings, expressways and elevated railroads, by using M-LinX(Tentative)-compatible devices.
2. New enjoyment by making use of additional data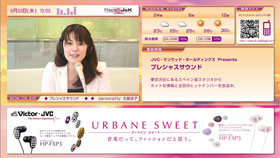 (Sample TV image using additional data)
Content production assistance:
Tokyo FM Broadcasting Co., Ltd.
The technological specifications of M-LinX(Tentative) are under development to allow users to receive additional data such as images, in addition to sound data.
This will open the way for users to enjoy additional information including moving images (images of DJs, promotion videos, etc.) and still images (news, weather forecast, artists' new release information, etc.), which will revolutionize the way people listen to the radio.
3. Advertising with a two-way function
A two-way function that takes advantage of the Internet network will allow advertising and provision of information in tandem with the listener preferences and program content.
Overview of M-LinX(Tentative)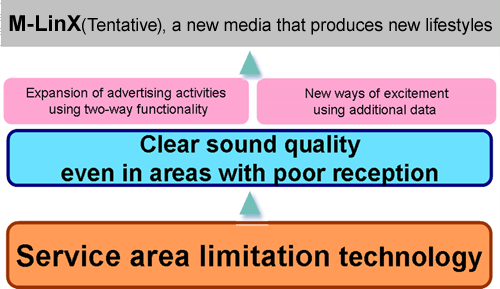 Development Intention
As digital broadcasting has become widespread, people have increasingly come to enjoy superior digital images and sound with big-screen TVs. The home Internet environment has gone broadband and large volumes of data have become even more readily available and easy to enjoy than in the past.
Meanwhile, good reception of FM radio, which is now established as a medium that offers simple access to music and is suitable for obtaining information, is now becoming more and more difficult due to radio disturbances especially in urban areas.
Ever since the establishment of the company last October, we have combined the image, audio and wireless communication technologies of JVC and Kenwood at a high level and worked on the development of unconventional products and services befitting the digital network era.
In this way, we have developed M-LinX(Tentative) as an innovative network service combining broadcasting and communication.
For queries regarding this article, please contact:
Media Contact:

Public and Investor Relations, Strategic Corporate Planning Division, JVC KENWOOD Holdings, Inc.
Tel: +81-45-444-5232 Fax: +81-45-444-5239 E-mail: prir@jk-holdings.com
3-12, Moriya-cho, Kanagawa-ku, Yokohama, Kanagawa