NEWS RELEASE
August 22, 2011
Winners of EISA European Best Product of the Year Awards
3D Camcorder Award 2011-2012

JVC GS-TD1

Video Projector Award 2011-2012

JVC DLA-X7

In-car Navi-Media System Award 2011-2012

KENWOOD DNX9280BT
The JVC Kenwood Group announces that three products have received the EISA (European Imaging and Sound Association) 2011-2012 Best Product of the Year Award for their respective categories, which is among the most prestigious awards for electronics products in Europe.
Introducing the Winners
Winner of 3D Camcorder Award 2011-2012: JVC GS-TD1
Everio Full HD 3D Camcorder GS-TD1 has won the Best 3D Camcorder of the Year Award, making it the ninth win for JVC in the camcorder field, following the previous win three years ago.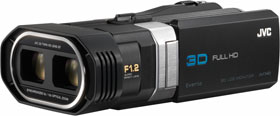 GS-TD1 provides extremely detailed 3D recordings that look like "you're there" by virtue of its 1920x1080 Full HD 3D Recording mode, and enables 3D image capture with clear spatial presence by using two bright F1.2 lenses as independent right and left lenses, as well as two Back-illuminated CMOS sensors for superior low-light performance. Equipped with the new FALCONBRID™ high-quality imaging engine, it enables high-speed processing of two image signals simultaneously on a single chip with high efficiency to always assure optimal quality recording. What's more, JVC's proprietary BIPHONIC technology delivers dynamic 3D sound.
Winner of Video Projector Award 2011-2012: JVC DLA-X7
The 3D Compatible D-ILA Home Theatre Projector DLA-X7 has won the Best Video Projector of the Year Award, making it the third win for JVC in the Video Projector field, following the previous win three years ago.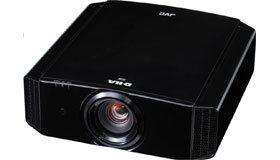 Equipped with a new optical engine, DLA-X7 achieves a native contrast of 70,000:1. Use of a new colour filter enables it to reproduce a wider colour gamut that is 120% that of conventional models. And by virtue of JVC's unique colour reproduction technology, it is capable of reproducing film images that are truly faithful to the original. This home theatre projector enables the enjoyment of higher quality 3D images in the home.
Winner of In-car Navi-Media System Award 2011-2012: KENWOOD DNX9280BT (overseas model)
The Car Navigation System DNX9280BT has won the Best In-car Navi-Media System of the Year Award. This is Kenwood's third consecutive win in the car electronics category since 2009-2010.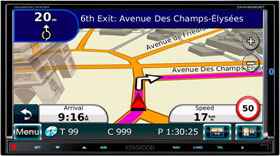 DNX9280BT incorporates a navigation engine by Garmin Ltd., a leading company in portable navigation systems, and achieves major improvements in operability and safety by adopting a 7-inch high-resolution VGA monitor for its detachable front LCD panel. Two USB ports and Bluetooth® connectivity offer enjoyment of music and video playback on various media such as iPod/iPhone. An all-in-one car navigation system equipped with 5.1ch DSP audio system worthy of its top-of-the-line position.
Reasons for Winning (Excerpted from EISA Comments)
EUROPEAN 3D-CAMCORDER OF THE YEAR 2011-2012
GS-TD1 Everio Full HD 3D Camcorder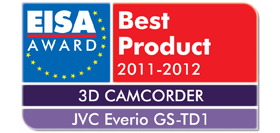 Anyone can become a 3D film producer with the JVC Everio GS-TD1. This easy to use and versatile camcorder is packed with automatic functions for the simple creation of high quality 3D images but stacks of manual functions give the more experienced user complete control of the end result. Work can be monitored on the 3D LCD touch screen, which offers an easy to use menu system and can be viewed without special glasses. Users can choose to save recordings in either JVC's future proof high quality 2x full HD format or standard side-by-side AVCHD to be edited easily with an existing video editing system. The camera is equipped with a pair of high quality F1.2 zoom lenses making it possible to shoot 3D or 2D stills or movies under poor light conditions.
EUROPEAN VIDEO PROJECTOR OF THE YEAR 2011-2012
DLA-X7 3D Compatible D-ILA Home Theatre Projector
To get fully immersed in the 3D realm you need a big picture and JVC's DLA-X7 does this with room to spare! This D-ILA projector is one of the first to achieve THX 3D certification, boasting a 70,000:1 native contrast and substantial 1300 ANSI Lumens brightness. Because JVC has designed this projector for use with active shutter 3D glasses, this allows the DLA-X7 to be used with a far wider choice of screen types than might otherwise have been the case. Other key technologies include a custom on-screen gamma control and 7-axis Colour Management System, ensuring very accurate calibration, and an HQV Reon-VX video processor for smooth rendering of all types of video material. All-in-all it delivers an eyeball-popping 2D/3D experience.
EUROPEAN IN-CAR NAVI-MEDIA SYSTEM 2011-2012
DNX9280BT Car Navigation System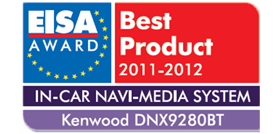 "Boarding complete". This Kenwood unit perfectly integrates as many systems and functions as the most demanding driver could imagine offering an easy to use and exciting in car infotainment experience. The Garmin navigation section is quick and smart offering excellent guidance and up to the minute traffic information. The double DIN chassis accommodates a large 7" screen. Besides a CD/DVD mechanism, Kenwood's twin USB ports can be used to playback audio and video files from external devices while internal DTS and Dolby Digital decoders take care of multi-channel A/V requirements. An iPod/iPhone interface allows control from the large touch screen and built-in Bluetooth® provides phone and streaming capability.
Regarding EISA Award
EISA Awards are given to new products that offer a combination of leading-edge technology, valuable features, advanced design, and superior cost-performance. Also known as the European Awards, the fame and authority of these EISA Awards are recognized by consumers and manufacturers alike as proof of excellence.
EISA is an organisation comprised of editors representing renowned European based magazines in the fields of Audio & Home Theater, In-Car Electronics, Photo, Video, Mobile Devices and Green. It was established in 1982 and currently membership has reached over 50 magazines from 19 European nations. Each year, they select the best products in Audio & Home Theater, In-Car Electronics, Photo, Video, Mobile Devices and Green, from manufacturers all around the world, and bestow their prestigious award.
Regarding Trademarks
iPod is a registered trademark of Apple Inc. in the U.S. and/or other countries.
Bluetooth® is a registered trademark of Bluetooth SIG, Inc. in the U.S. and/or other countries.
THX and THX3D are trademarks of THX Ltd. which are registered in some jurisdictions.
All other company names, brand names and product names are registered trademarks or trade names of their respective holders.
For further information, please contact:
JVC KENWOOD Corporation
Advertising and Publicity, Strategic Marketing Planning Division
3-12 Moriya-cho, Kanagawa-ku, Yokohama-shi, Kanagawa Prefecture 221-0022
TEL: +81-45-444-5310