NEWS RELEASE
August 29, 2011
JVC KENWOOD is Proud to Announce Its Integrated Booth Exhibit at IFA 2011,
Which will Showcase EISA Award-winning Products and New Technologies of the Two Brands Designed to Enhance Lifestyles.

— New Products in Car Entertainment, Camcorders, Home Entertainment, and More will be Exhibited —
The JVC KENWOOD Group will be exhibiting at the IFA 2011, the largest consumer electronics and home appliances show in Europe, which will be held at Messe Berlin in Berlin, Germany from 2nd to 7th September 2011.
The latest products from both JVC and Kenwood brands will be displayed together as a JVC KENWOOD Group exhibit at the show. The two brands will be exhibiting in an integrated booth just like last year in a cooperative effort prior to the corporate merger* of JVC KENWOOD Corporation (JVC KENWOOD), Victor Company of Japan, Limited (JVC), Kenwood Corporation (Kenwood), and J&K Car Electronics Corporation (J&K Car Electronics) scheduled to take place on October 1st, 2011.
The JVC KENWOOD booth will introduce a wide variety of technologies including EISA (European Imaging and Sound Association) award-winning products, car entertainment products that enjoy a large share in the European market, and the latest in camcorders and home entertainment components. In addition, newly developed cameras scheduled for imminent release that are designed to propose new application scenes will also be exhibited. Through these innovations, new ways to enhance lifestyles and full-fledged sales promotional activities will be proposed at IFA 2011 by both brands.
* As announced in a press release titled, "Notice on Merger of JVC KENWOOD and Its Three Subsidiaries", of 1st August 2011.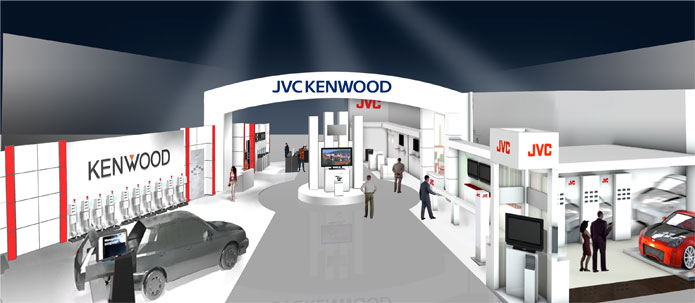 Rendering of the JVC KENWOOD booth at IFA2011
Major exhibits at the JVC KENWOOD Integrated Booth (Hall 5.2, Stand 103 / 104)
Car Entertainment:
Kenwood Navigation System DNX9280BT (EISA Award European In-car Navi-Media System 2011 - 2012).
JVC Flash Memory Navigation System KW-NT30 (winner of the Plus X Award®).
CD Receiver with Built-in DAB+ Tuner Kenwood KDC-DAB41U / KDC-DAB4551U and JVC KD-DB42 / KD-DB52.
Camcorders:
JVC GS-TD1 (EISA Award European 3D Camcorder 2011 - 2012) and other JVC Everio camcorder models equipped with JVC's original and newly developed FALCONBRID™ imaging engine.
New category of cameras designed to capture every split second, seize any moment.
Home Entertainment:
Kenwood new K-series featuring enhanced digital media applications to playback various music sources including iPod/iPhone and audio files on a PC in high quality. Plus, Blu-ray and 3D-compatible home theater products.
JVC iPad compatible micro component UX-VJ Series, RV-NB70 powered woofer portable system (BoomBlaster), and others all compatible with iPod/iPhone.
JVC HA-M5X, HA-S4X, and HA-FX1X XX Series headphones (winners of the Plus X Award®).
Regarding Trademarks
iPod, iPad and iPhone are registered trademarks of Apple Inc. in the U.S. and/or other countries.
BoomBlaster is a registered trademark of Victor Company of Japan, Limited in all regions except for North America and Japan.
All other company names, brand names and product names are registered trademarks or trade names of their respective holders.
For further information, please contact:
JVC KENWOOD Corporation
Advertising and Publicity, Strategic Marketing Planning Division
3-12 Moriya-cho, Kanagawa-ku, Yokohama-shi, Kanagawa Prefecture 221-0022
TEL: +81-45-444-5310