NEWS RELEASE
August 20, 2012
Winners of EISA European Best Product of the Year Awards
In-car Head Unit Award 2012-2013

KENWOOD DNX4210DAB

Smart Connectivity Award 2012-2013

JVC KW-NSX1
JVC KENWOOD Corporation announces that two products have received the EISA (European Imaging and Sound Association) 2012-2013 Best Product of the Year Award for their respective categories, which is among the most prestigious awards for electronics products in Europe.
Introducing the Winners
Winner of In-car Head Unit Award 2012-2013: KENWOOD DNX4210DAB
The Car Navigation System DNX4210DAB has won the Best In-car Head Unit of the Year Award. This win is the latest in four consecutive years starting in 2009-2010 for KENWOOD in the car electronics category.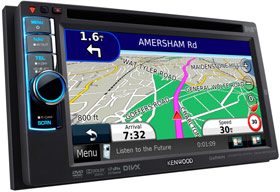 DNX4210DAB is equipped with 6.1-inch WVGA touch panel display as well as a navigation engine developed by Garmin Ltd., a leading company in portable navigation systems. In addition to offering playback of CD/DVD discs, hands-free mobile phone operation with Bluetooth® connectivity, as well as music and video playback from iPod/iPhone, this AV navigation unit is also equipped with DAB+ tuner for enjoyment of digital radio broadcasts being implemented throughout Europe.
Winner of Smart Connectivity Award 2012-2013: JVC KW-NSX1
The AV receiver KW-NSX1 has won the Best Smart Connectivity of the Year Award. This marks a return to the winning roster for JVC after three years in the car electronics category.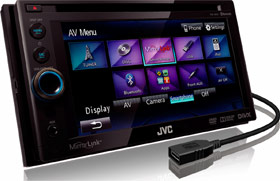 KW-NSX1 is equipped with 6.1-inch WVGA touch panel display and offers playback of CD/DVD discs, as well as music playback, hands-free voice communication with Bluetooth® connectivity. This AV head unit also enables on-screen display and touch screen operation of applications stored on MirrorLink™*1 compatible smartphones by Samsung (Android OS)*2 and Nokia (Symbian OS)*3, as well as iPhone.
*1 MirrorLink™ is an industry standard for the interconnection of smartphones and in-car devices being promoted by the Car Connectivity Consortium, a global organization comprised of firms related to the automotive and smartphone industries, including JVC KENWOOD.
*2 Compatible Samsung smartphone is GALAXY S III. GALAXY S III is undergoing the approval process by the Car Connectivity Consortium.
As middle of August 2012, Samsung Drive Link App is expected to be released via Samsung Apps. GALAXY S III requires latest firmware update.
*3 Compatible Nokia smartphones are Nokia 701, Nokia 700, Nokia 603, Nokia N8, Nokia E7, Nokia C6-01, Nokia C7 and Nokia X7. (Nokia N8, Nokia C6-01, Nokia C7, Nokia E7 and Nokia X7 require OS update to Nokia Belle.)
Reasons for Winning (Excerpted from EISA Comments)
DNX4210DAB Car Navigation System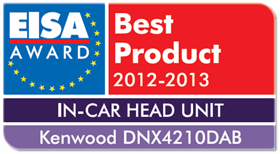 The KENWOOD DNX4210DAB is the first multimedia head unit featuring a built-in DAB+ tuner. This adds a new dimension to mobile radio, making it possible to listen in a new way: you can tune in to your favorite radio station anywhere with crystal-clear sound quality and benefit from a number of additional services broadcast along with the music. In addition, the DNX4210DAB features everything you would expect from a modern head unit, including hands-free operation via Bluetooth®, smart iPhone/iPod control and on-board navigation. While playing video and audio, from DVDs to YouTube clips, the DNX4210DAB is always easy to use, thanks to the optional compatibility with existing steering-wheel controls. Its complete functionality and outstanding digital radio capability makes KENWOOD's DNX4210DAB a fantastic head unit.
KW-NSX1 AV Receiver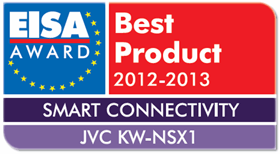 At first glance you might think that the JVC KW-NSX1 is a great, modern double-DIN In-Car head unit. You would be right. The aspects that will probably catch your eye include it's 6.1" touch-screen that acts as a display for RDS radio, CD or USB music, DVD or DivX® video, Bluetooth® connections and iPhone/iPod App Link interface. However, by far the most important feature of this unit is Mirror Link: as one of the first models to use this new industry standard, it also connects to certain compatible Android or Symbian smartphones, making selected content and Apps easily available and controllable on its large touch-screen. The LCD of the head unit will display a mirror copy of your smartphone screen, so you can have access and full control of your phone apps with a larger, easier to operate and familiar graphical user interface when you are in your car. And is charges your phone at the same time. The JVC KW-NSX1, with Mirror Link, is a great solution for getting the most out of your smartphone in your car.
Regarding EISA Award
EISA Awards are given to new products that offer a combination of leading-edge technology, valuable features, advanced design, and superior cost-performance. Also known as the European Awards, the fame and authority of these EISA Awards are recognized by consumers and manufacturers alike as proof of excellence.
EISA is an organisation comprised of editors representing renowned European based magazines in the fields of Audio & Home Theater, In-Car Electronics, Photo, Video, Mobile Devices and Green. It was established in 1982 and currently membership has reached over 50 magazines from 19 European nations. Each year, they select the best products in Audio & Home Theater, In-Car Electronics, Photo, Video, Mobile Devices and Green, from manufacturers all around the world, and bestow their prestigious award.
Regarding Trademarks
iPhone and iPod are trademarks of Apple Inc., registered in the U.S. and other countries.
Bluetooth® is a registered trademark of Bluetooth SIG, Inc. in the U.S. and/or other countries.
Android™, YouTube™ are trademarks of Google Inc.
All other company names, brand names and product names are registered trademarks or trade names of their respective holders.
For further information, please contact:
Inquiries from the press

Advertising and Publicity, Strategic Marketing Planning Division, JVC KENWOOD Corporation
3-12 Moriya-cho, Kanagawa-ku, Yokohama-shi, Kanagawa Prefecture 221-0022
TEL: +81-45-444-5306