NEWS RELEASE
August 27, 2012
Details Announced for the JVCKENWOOD Booth at IFA 2012,
the World's Largest Consumer Electronics Exhibition
Offering innovative audio enjoyment with exhibits of EISA*1 award winners and many new products from the JVC and KENWOOD brands
JVCKENWOOD Corporation will exhibit at IFA 2012, the world's largest trade show for consumer electronics and home appliances, to be held from August 31 (Fri) to September 5 (Wed) at the Messe Berlin exhibition site in Berlin, Germany. Both JVC and KENWOOD brands will be featured. As well as spotlighting the winners of EISA European Best Product of the Year Awards, the booth will include new products in the car electronics and home & mobile electronics categories in which JVCKENWOOD enjoys a significant share of the European market. As well as demonstrating new ways of enjoying audio entertainment with these products, the booth will serve as the nerve center for sales promotion activities.
*1 EISA: European Imaging and Sound Association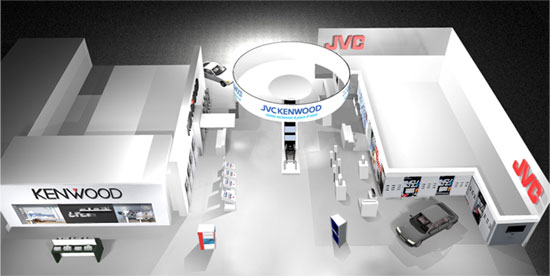 JVCKENWOOD booth (artist's impression)
JVCKENWOOD Booth (Hall 2.2, Stand 110/118)
Car Electronics — main exhibits
Technical exhibit: Next-generation HUD (Head-Up Display) for cars
JVCKENWOOD's next-generation HUD display for cars will be on display as a technical exhibit. Incorporating a high-performance projector, it features LCOS (Liquid Crystal on Silicon) technology, which has an established track record. This enables it to display a high-definition image that appears to float in front of the car's windshield. Visitors will be able to try out this prototype HUD first-hand at the booth.
KENWOOD brand
DNX4210DAB car navigation system (EISA In-car Head Unit Award 2012-2013); also, a car navigation system and CD receivers with built-in digital radio (DAB+) tuner
Car navigation system designed to fit the common center console found in Volkswagen, SEAT and Skoda cars
CD receiver lineup offering such popular features as compatibility with iPod/iPhone and Android™ devices, Bluetooth® connectivity, SD card slots and digital radio (DAB+) tuner
JVC brand
KW-NSX1 AV receiver with MirrorLink™ compatibility (EISA Smart Connectivity Award 2012-2013)
New-concept digital media receiver offering USB and smartphone connectivity
2DIN CD receiver with built-in digital radio (DAB+) tuner — an industry first*2

*2 Based on August 2012 survey of European Car audio receivers conducted by JVCKENWOOD
Home & Mobile Electronics — main exhibits
JVC brand
"For your Active Life" Zone: Offering new ways to enjoy outdoor recreation
GC-XA1 ADIXXION Action Camera
RV-NB90 BoomBlaster powered woofer CD system featuring a guitar amp and distortion function
XX (Xtreme Xplosives) Series of rugged, hyper-bass headphones
"For your Smart Life" Zone: Offering new ways to harness the capabilities of smartphones and tablets
Everio Full HD flash-memory camcorders with built-in Wi-Fi®
Live-streaming camera
NX-SA1 audio system featuring new sound field technology and a unique tower design
UX-N5 wireless network audio system with support for AirPlay and DLNA
High-performance flip-up style headband headphones with carbon nanotubes diaphragms
KENWOOD brand
UD-NF7 audio system with DLNA compatibility and Wi-Fi® connectivity for smartphones, tablets and PCs
New K Series K-531 compact hi-fi system with Bluetooth® connectivity for enjoying music streamed wirelessly from a smartphone with high sound quality
Offering a new audio lifestyle and designed like a stylish piece of furniture, the C-BX3 audio system with integrated stand and iPod/iPhone compatibility
Regarding Trademarks
iPhone, iPod and AirPlay are trademarks of Apple Inc. registered in the U.S. and other countries.
Android™ is a trademark or registered trademark of Google Inc.
Bluetooth® and the Bluetooth logo are registered trademarks of Bluetooth SIG, Inc., used under license by JVCKENWOOD Corporation.
MirrorLink™ is a trademark of the Car Connectivity Consortium.
Wi-Fi® is a registered trademark of the Wi-Fi Alliance.
DLNA® is a registered trademark of the Digital Living Network Alliance.
BoomBlaster is trademark of JVCKENWOOD Corporation registered worldwide except in North America and Japan.
All other company names, brand names and product names are registered trademarks or trade names of their respective holders.
For further information, please contact:
Inquiries from the press

Advertising and Publicity, Strategic Marketing Planning Division, JVCKENWOOD Corporation
3-12 Moriya-cho, Kanagawa-ku, Yokohama-shi, Kanagawa Prefecture 221-0022
TEL: +81-45-444-5306