NEWS RELEASE
October 4, 2012
Completion of Development of
1st Generation In-Vehicle Head-Up Display

Start of shipments of the display to a specific sales route through a company promoting car robotics
JVCKENWOOD Corporation (JVCKENWOOD) has completed developing a first-generation in-vehicle head-up display (HUD) and begun shipping it to ZMP INC. (CEO: Hisashi Taniguchi; Head office: Bunkyo-ku, Tokyo; ZMP), a venture firm that promotes car robotics.
1. JVCKENWOOD's involvement in HUD
The HUD, a display for automobiles, shows various types of information to drivers, such as route directions provided by a car navigation system, car speed and the distance between two cars. It does this by using the windshield and combiner. The device enables the user to drive without moving his or her line of sight to the car navigation display, thereby helping to make driving safer.
JVCKENWOOD has focused on the development of an HUD that supports safe driving, under its corporate vision: To become a manufacturer that creates excitement and peace of mind. It has developed two types of HUDs: (1) a liquid crystal on silicon (LCOS) system that uses a reflective liquid crystal display device and projector optics, and (2) a micro electro mechanical system (MEMS) system that employs a mirror for raster-scanning of laser beams modulated with image signals. We developed an LCOS-based HUD product first as it can be mass-produced immediately by applying the projector technology that JVCKENWOOD has cultivated over many years, and exhibited its prototype for reference at the 2012 International CES held in Las Vegas in the U.S. in January 2012.
By completing the development of the first-generation HUD and starting shipment, JVCKENWOOD will promote research and development activities for both an LCOS-based HUD, which is expected to be mainly for the consumer market, and an MEMS-based HUD primarily for the OEM market. It will also conduct marketing activities for them on a full-scale basis. Through these efforts, we will aim to commercialize these HUDs in each of the consumer and OEM markets.
2. Outline of the first-generation HUD
A display mounted into the dashboard was exhibited for reference at the 2012 International CES. But the first-generation HUD, whose development we have completed this time, is an LCOS-based display that can be attached to the rearview mirror of more automobiles. JVCKENWOOD has designed the core part of this HUD, and entrusted partner companies with the design and manufacture for mass production. Under this business scheme, we shortened the development period and realized efficient development. By making it possible for the device to input and output general-purpose images, we also succeeded in giving it specifications that are suitable for automobile-related research and development.
Taking advantage of these specifications, JVCKENWOOD shipped HUDs to ZMP, a venture firm that promotes car robotics, through which HUDs are expected to be sold to the research section of automobile-related education and research institutions and companies.
| | |
| --- | --- |
| Company name: | ZMP INC. |
| Establishment: | January 30, 2001 |
| Capital: | 30.0 million yen |
| Representative: | Hisashi Taniguchi, CEO |
| Head office: | 6F Sumitomo Fudosan Koishikawa Bldg., 5-41-10 Koishikawa, Bunkyo-ku, Tokyo 112-0002 |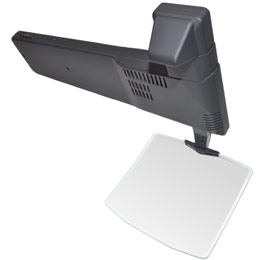 1st generation HUD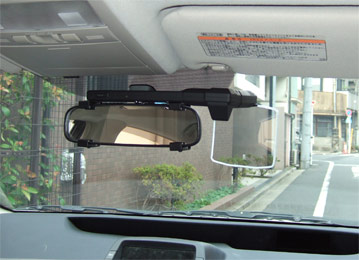 HUD mounted on a car
For further information, please contact:
Inquiries from the press

Public & Investor Relations, Strategic Corporate Planning Division, JVCKENWOOD Corporation
3-12 Moriya-cho, Kanagawa-ku, Yokohama-shi, Kanagawa Prefecture 221-0022
TEL: +81-45-444-5232