NEWS RELEASE
October 10, 2012
Launch of Joint Development with United Graduate School of Child Development for Support of Developmental Disorder Diagnosis, Aiming at Early Detection of Autism and Other Developmental Disorders

Development of "GazeFinder," a system to support developmental disorder diagnosis that uses a method to detect visual fixation points
JVCKENWOOD Corporation (JVCKENWOOD) has begun development of a system aiming to support developmental disorder diagnosis jointly with the United Graduate School of Child Development, Graduate School of Osaka University, Osaka University; Kanazawa University; Hamamatsu University School of Medicine; Chiba University; the Univertisy of Fukui (Head: Professor Taiichi Katayama); and Child Developmental Science Research, a general incorporated association.
The main purpose of the above joint development is to develop a system to support developmental disorder diagnosis, and it is called "GazeFinder." It employs a method of detecting visual fixation points, and has been adopted in the Implementation-Support Program of the Japan Science and Technology Agency (JST), an independent administrative institution.
1. Outline of developmental disorder diagnosis support system: GazeFinder
GazeFinder, a system to aid diagnosis, is composed of a stereo camera, a monitor and specially designed image content, and it can quickly analyze the possibility of an examinee having a developmental disorder by detecting where the examinee's visual fixation points are located when they are watching the provided images.
Features of GazeFinder
Can quickly detect the possibility of an examinee having a developmental disorder by having the examinee look at specially designed images.
Can identify an examinee's development characteristics from the infant period by using objective indicators, making it possible to find any disorder at an early stage.
Data analyzed by the system can be used as basic data for experts on medical care, welfare and education to provide all children and their parents with comprehensive and continued support.
GazeFinder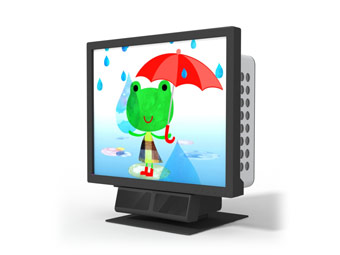 This system employs the sight-line detection technique invented by Yoshinobu Ebisawa, Professor at the Faculty of Engineering in Shizuoka University.
Determining fixation points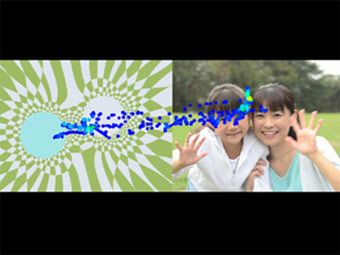 GazeFinder helps doctors diagnose children with autism by identifying their characteristics such as their tendency to look at geometrical patterns rather than human figures.
2. Background and purpose of the development of GazeFinder
In recent years, the number of children with characteristics of developmental disorder has been increasing, and they are said to amount to as many as 10% of all children. Autism and autism spectrum disorder (ASD) are developmental disorders that emerge by the time a child is three years old, and are characterized by difficulties in social interaction and communication, as well as limited interests and behaviors. If the finding of these symptoms is delayed, it is highly likely that the child's social life will be seriously impeded. However, it is known that early detection of these disorders as well as care and education will improve the social prognosis of such children.
It is desirable to examine all infants (children under three years old) to determine whether a child may have a developmental disorder, at an early age. At present, however, there are extremely few medical specialists compared to the number of infants likely to need such medical examination. For this reason, a device to help doctors examine children is needed that can simply detect a developmental disorder without depending on a doctor's experience, and establish relevant objective diagnosis indicators.
JVCKENWOOD's corporate vision is: To become a manufacturer that creates excitement and peace of mind. Under this vision, we will aim to commercialize the developmental disorder diagnosis support system "GazeFinder," which enables children that may have a developmental disorder to be detected and help them get care and education. We will continue to develop a system that comprehensively supports children with development disorders, jointly with the United Graduate School of Child Development.
For further information, please contact:
Inquiries from the press

Public & Investor Relations, Strategic Corporate Planning Division, JVCKENWOOD Corporation
3-12 Moriya-cho, Kanagawa-ku, Yokohama-shi, Kanagawa Prefecture 221-0022
TEL: +81-45-444-5232