NEWS RELEASE
October 30, 2012
Details Announced for the JVCKENWOOD Booth at Inter BEE 2012 International Broadcast Equipment Exhibition

High-definition imaging equipment such as professional camcorder, and 4FSK digital radio system for broadcasters will be exhibited.
JVCKENWOOD Corporation will exhibit at Inter BEE 2012, the International Broadcast Equipment Exhibition, to be held from November 14 (Wed) to November 16 (Fri) at the Makuhari Messe exhibition site in Tokyo, Japan. On exhibit will be a high-definition image gathering equipment such as a professional HD/4K handheld camcorders, as well as digital radio systems such as a digital conventional radio and IP network remote operation system for broadcasters.
The JVC brand will be represented by the new GY-HM650 and GY-HM600 ProHD handheld camcorders which will be making their first appearance in Japan. They will enable more efficient file-based operation in the fields of broadcasting and video production.
The KENWOOD brand will feature a VHF digital radio that is compliant with ARIB STD-B54, the 4FSK digital radio transmission standard in Japan, as well as a networked communication system enabling remote control via base station IP network. These are ready to improve work efficiency for broadcasters in conjunction with the digitization of radio systems.
Additionally, a One-Seg format area broadcasting system, which is anticipated as an effective tool for local information broadcasting, will also be on display.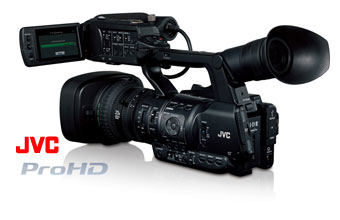 [ProHD Handheld Camcorder System]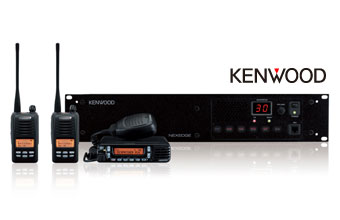 [4FSK Digital Conventional Radio System]
JVCKENWOOD Booth (Imaging & Broadcasting Sector, Hall 8, Booth 8104)
1. GY-HM650 & GY-HM600 ProHD Handheld Camcorders (New Products)
New professional-use ProHD handheld cameras GY-HM650 (to be launched middle of December) and GY-HM600 will be exhibited. These models are equipped with the popular double slots for SDHC/SDXC media cards, as well as an industry-leading*1 23x wide zoom lens, and are also the first*2 in the industry to support dual HD codecs MPEG-2 and AVCHD. The higher-end model GY-HM650 also supports Web connectivity, allowing HD/SD/Proxy files to be transferred via internet.
*1 As professional handheld camcorder marketed end of October (as of Oct. 30, 2012, source JVCKENWOOD).
*2 As dual HD codecs compatible camcorder marketed end of October (as of Oct. 30, 2012, source JVCKENWOOD).
2. GY-HMQ10 Professional Handheld 4K Camcorder
The Handheld 4K camcorder GY-HMQ10, the world's first*3 to achieve 4K/60P recording/playback in a compact and lightweight handheld size, will be exhibited. It realizes 4K2K resolution, which is 4 times that of HD. The exhibition site will feature an example of a high-speed transmission system during multiple locations for event sites, broadcasting stations and video production facilities, using non-compressed video transmission equipment (courtesy of PFU Limited).
*3 As 4K recording/playback capable professional compact camcorder in Japan market (as of Mar. 16, 2012, at time of news release, source JVCKENWOOD).
3. SR-HD2500 Professional Blu-ray Disc & HDD Recorder (New Product)
The SR-HD2500 Blu-ray disc recorder equipped with HD-SDI input interface will be exhibited. Direct recording on Blu-ray disc and DVD disc is possible.
4. Professional Multi-Format Monitor
Lineup of various monitors for broadcasting and video production will be exhibited. Ranging from compact 8.2v, high-resolution 17v to large-screen 55v sizes, they will accommodate a wide range of usage locations, situations and applications.
5. Digital 4FSK Conventional Radio for Broadcasters (VHF Digital Radio)
VHF digital radio for broadcasting industry, compliant with the Japanese 4FSK digital radio transmission standard ARIB STD-B54, will be exhibited in working portable, mobile, and base station configurations. Exclusive accessories including earphones and microphones will also be displayed.
6. Base Station IP Network Remote Operation System
This system enables multiple base station type radios in remote locations to be controlled from a single control console via IP network. As a next-generation remote operation system, the "MAX System" that supports dual IP networks will be exhibited, with a demonstration*4 of smooth operation using the intelligent GUI of the high-performance control console.
*4 Presented by cooperation with Tokyo Broadcasting System Television, Inc.
7. Digital Conventional Radio Location Information System (Reference Exhibit)
This digital conventional radio has functionality to transmit GPS location data. The reference exhibit will show a system that utilizes this function to send GPS data, and receive it as the location information of a mobile crew, displaying it on a map.*5
*5 Presented by cooperation with Nippon Television Network Corporation.
8. Digital Conventional Radio Tally Transmission System (Reference Exhibit)
Sample of a system that uses the data transmission function of digital conventional radio to transmit tally data to wireless cameras during golf matches and other live feeds.*5
*5 Presented by cooperation with Nippon Television Network Corporation.
9. One-Seg Format Area Broadcasting System (Reference Exhibit)
Distributes information regarding local areas via video images, sound, and data broadcasts to widely used One-Seg compatible mobile phones and other portable terminals.
A system that distributes real-time information specific to local areas for disaster management, amusement facilities, education and so on, will be exhibited.
Note: Above items 5 through 9 are commercial systems meant for the Japanese domestic market. Overseas implementation is under study by individual market region and application.
Outline of Inter BEE 2012
Period: 10:00–17:30, November 14 (Wed) and 15 (Thu), 10:00–17:00, November 16 (Fri), 2012
Venue: Makuhari Messe
Host: Japan Electronics and Information Technology Industries Association (JEITA)
For further information, please contact:
Inquiries from the press

Advertising and Publicity, Strategic Marketing Planning Division, JVCKENWOOD Corporation
3-12 Moriya-cho, Kanagawa-ku, Yokohama-shi, Kanagawa Prefecture 221-0022
TEL: +81-45-444-5310