NEWS RELEASE
September 2, 2013
Details Announced for the JVCKENWOOD Booth at IFA 2013,
the World's Largest Consumer Electronics Exhibition
Showcasing new and fun lifestyles with exhibits of EISA*1 award winners and
many new products from the JVC and KENWOOD brands
JVCKENWOOD Corporation will exhibit at IFA 2013, the world's largest tradeshow for consumer electronics and home appliances, to be held from September 6 (Fri) to 11 (Wed) at the Messe Berlin exhibition site in Berlin, Germany. Both JVC and KENWOOD brands will be featured. As well as spotlighting the winners of EISA European Best Product of the Year Awards, the booth will include new products in the car electronics and optical & audio categories in which JVCKENWOOD enjoys a significant share of the European market. As well as showcasing new and fun lifestyles with these products, sales promotion activities will be performed at the booth.
*1 EISA: European Imaging and Sound Association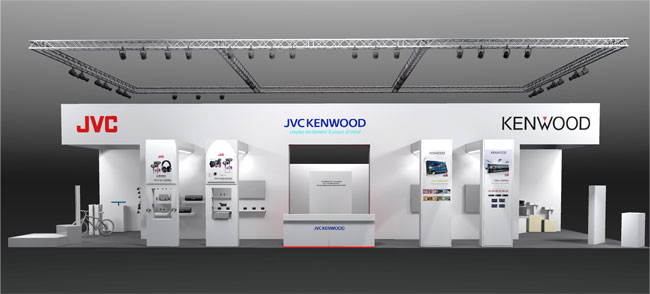 JVCKENWOOD booth (artist's impression)
JVCKENWOOD Booth (Hall 2.2, Stand 108)
Car Electronics — main exhibits
KENWOOD brand
1) DNN9230DAB Wi-Fi® Network Navigation System (EISA In-car Head Unit Award 2013-2014)
2) Car navigation system and car audio products with built-in DAB+ digital radio tuner
3) Navigation systems and car audio products compatible with Internet radio (Aha™ Radio), strengthening connectivity with smartphones.
JVC brand
1) KW-NSX700/600 MirrorLink™ Direct Connection AV Receivers offering high-resolution video with MHL™ technology.
2) AV receivers and receivers equipped with Bluetooth® technology offering further enhanced connectivity with smartphones.
3) New digital media receivers specialized in USB connection and linkage with smartphones.
Optical & Audio — main exhibits
JVC brand
1) GC-PX100 HD Memory Camera (EISA Camcorder Award 2013-2014, and Plus X Award 2013)
2) Z Series including the HA-FXZ200 Inner ear headphones (EISA Mobile Headphone Award 2013-2014)
3) DLA-X55R D-ILA Home Theater Projector (EISA Projector Award 2013-2014)
4) Elegantly designed "ésnsy [ess-EN-sí:]" Series HA-SR85S/75S, HA-FR65S, and HA-FX45S Headphones (Plus X Award 2013)
5) "Everio" HD Memory Cameras such as the GZ-EX515 and GZ-VX815 with built-in Wi-Fi® networking function that consistently receive favorable reviews.
6) New audio products that offer a new style of listening, such as the SP-AP1 Wireless Powered Speaker with DLNA®/AirPlay®/Bluetooth® network compatibility, and the NX-W5 Compact CD System with Bluetooth® compatibility.
7) Action World Zone: Proposing new ways to enjoy audio and video outdoors
GC-XA2 Action Camera is an upgraded version of the JVC ADIXXION offering Quad-Proof design for protection against water/shocks/dust/freezing, Full HD 1920×1080/50p recording, and enhancements in picture quality and usability.
RV-NB75, a new addition to the BoomBlaster Powered Woofer CD System is now equipped with Bluetooth® technology and music reproduction via smartphones.
XX(XTREME XPLOSIVES) Series Headphones with the concept of deep bass & toughness.
Regarding Trademarks
Aha™ is a trademark of Harman International Industries, Incorporated.
MirrorLink™ is a trademark of the Car Connectivity Consortium.
MHL™ is a trademark or registered trademark of MHL, LLC in the U.S. and/or other countries.
Bluetooth® is a registered trademark of Bluetooth SIG, Inc., used under license by JVCKENWOOD Corporation.
Wi-Fi® is a registered trademark of Wi-Fi Alliance®.
AirPlay® is a registered trademark of Apple Inc., registered in the U.S. and/or other countries.
DLNA® is a registered trademark of Digital Living Network Alliance.
All other company names, brand names and product names are registered trademarks or trade names of their respective holders.
For further information, please contact:
Inquiries from the press

Advertising and Publicity, Brand Strategy Division, JVCKENWOOD Corporation
3-12, Moriya-cho, Kanagawa-ku, Yokohama, Kanagawa 221-0022 Japan
TEL: +81-45-444-5310