NEWS RELEASE
December 13, 2013
Launch of Full-scale Volume Production at Shinwa Precision (China) Ltd. Toward the Expansion of the In-car Water-based Paint Plastic Panel Business that Will Achieve a Reduction in Environmental Impact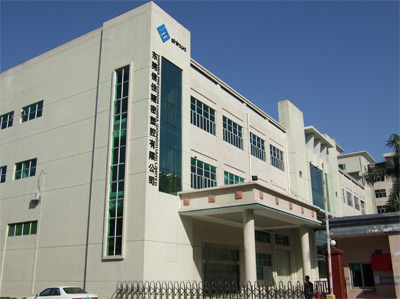 Appearance of Shinwa Precision (China) Ltd.
JVCKENWOOD Corporation ("JVCKENWOOD") hereby announces that it has completed setting up advanced facilities to Shinwa Precision (China) Ltd. ("SPC"), which was established in May. The purpose is to expand the in-car water-based paint plastic panel business operated by Shinwa International Holdings Limited ("Shinwa"), one of the largest manufacturers and sellers of CD/DVD mechanisms for car AV equipment (in-car CD/DVD mechanism) that became its consolidated subsidiary in June. SPC is slated to launch full-scale volume production beginning next year.
The in-car water-based paint plastic panel business is one of the core businesses of Shinwa along with the in-car CD/DVD mechanism business. European countries have implemented strict regulations on the use of volatile organic compounds (VOC) for car interiors and they require that water-based paints, which have less environmental impact, be used for car interior panels instead of organic compounds.
Shinwa has been highly regarded for its advanced technologies and high quality of water-based paints mainly by European automobile manufacturers, and it aims to expand its business domain from Europe to global markets in the future.
Shinwa is currently producing water-based paint in-car plastic panels at its Hungary Plant in Europe, the main market for the products. In order to step up its capabilities to respond to the Chinese market, where greater demand is expected in the future, Shinwa established SPC in Guangdong Province in China in May 2013. Shinwa has set up advanced facilities that enable high-quality coatings through the use of water-based paints that meet the European regulations on VOC, with a plan to start volume production on a full-scale basis from 2014.
By establishing SPC in China, which is expected to become the world's largest automobile market, JVCKENWOOD will promote order-taking for production and sale of in-car interior panels for the domestic market in China, targeting automobile makers (including Chinese automobile manufacturers) as end customers as well as expand business for automobile makers around the world including Japanese and the U.S. auto-makers.
Outline of Shinwa Precision (China) Ltd.
| | |
| --- | --- |
| Company name | Shinwa Precision (China) Ltd. |
| Address | Changan, Dongguan City, Guangdong Province, PRC |
| Established | May 2013 |
| Representative's name | Akihiko Terada |
| Total floor space | 9,000m2 |
For further information, please contact:
Inquiries from the press

Public and Investor Relations Dept., Corporate Strategy Division, JVCKENWOOD Corporation
3-12 Moriya-cho, Kanagawa-ku, Yokohama-shi, Kanagawa Prefecture 221-0022
TEL: +81-45-444-5232