NEWS RELEASE
January 6, 2014
Details Announced for JVCKENWOOD Booth at 2014 International CES
Proposal of components and new technologies in the new innovations in CAROPTRONICS and
Next-generation Imaging, as well as exhibition of new products and technologies
for 2014 from the JVC and KENWOOD brands
JVCKENWOOD Corporation will exhibit at the 2014 International Consumer Electronics Show (CES), one of the world's largest electronics show, to be held from January 7 (Tue) to 10 (Fri), 2014, in Las Vegas, Nevada, U.S.A. New products in the mobile entertainment field, and optical & audio entertainment field will be exhibited, as well as components and new technologies in the CAROPTRONICS* and Next-generation Imaging, which are under development as a new-generation principal business.
*CAROPTRONICS is our original name for a technology that applies opto-electronics technology to in-car applications under a trademark application in the U.S., Japan and other countries.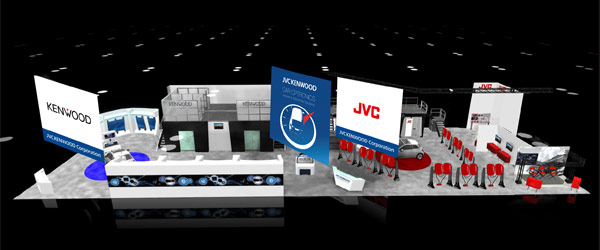 JVCKENWOOD booth (artist's impression)
JVCKENWOOD Booth (North Hall #1801, #1810)
Main exhibits in the CAROPTRONICS and Next-generation Imaging
Exhibited will be head-up displays based on our company's core technologies, plus the revolutionary driver support system i-ADAS (innovative Advanced Driver Assistance System) that utilizes CAROPTRONICS technologies to display vehicle information and is on its way to being marketed, as well as the next-generation Near Eye Display (tentative name).
1. Elements and Technologies from the Revolutionary New Driver Support System "i-ADAS" [Reference exhibit]
High-brilliance head-up display that displays full-color high-definition vehicle information on the windshield.
High-quality wide-angle megapixel camera providing live vision and blind area information such as approaching vehicles by a combination of cameras and displays instead of mirrors.
Advanced-feeling meter display that replaces traditional meters with a totally new type of display.
A demonstration video covering the above mentioned content in an easily understandable manner will be shown at the booth for first-hand experience.
2. Near Eye Display with Camera (tentative name) to propose next-generation imaging technology [Reference exhibit]
A wearable hands-free head-mount type display apparatus that enables monitoring of visuals and graphics such as vehicle diagnostic data and blueprints with 1280×720-pixel high definition. This combination of compact HD camera based on original imaging technologies and wireless network enables proposal as an innovative and efficient operational tool.
Main exhibits in the Car Electronics Entertainment: North Hall #1801, #1810
1. KENWOOD brand main exhibits (#1801)
First exhibit of communicating AV navigation system featuring static type touch panel. In addition to HDMI® and MHL® compatibility, the newly introduced amp lineup features built-in Bluetooth® Apt-X for higher quality sound, and enhanced interoperability with smartphones.
Exhibit of new lineup of 1DIN CD Receivers featuring enhanced interoperability with smartphones and compatibility with internet radio (Pandora, iHeartRadio).
Introduction of slim-profile amps, compact 4ch amps, and new speakers with oversized cones and high sound quality from the eXcelon line.
2. JVC brand main exhibits (#1810)
Introduction of new AV Receiver models supporting HDMI®, MHL®, etc., to address the growing number of smartphone users, as well as an easy-to-see GUI with high degree of customization.
Display of receiver lineup offering enhanced interoperability with smartphones. Includes 2DIN CD receiver models featuring newly designed illuminations, as well as Bluetooth® receivers offering improved usability by virtue of originally developed Android™ application.
Introduction of new speaker and amp lineup representing the second generation of drvn series, noted for their powerful sound and aggressive design.
Main exhibits in the Optical & Audio Entertainment: North Hall #1810
1. New concept video camera proposing new ways of use
New Everio HD memory camcorder models GZ-R10/R70 based on Quad-Proof (water-proof, shock-proof, dust-proof, freeze-proof) all-weather usability.
Second-generation ADIXXION Action Camera GC-XA2.
Live Streaming Cameras GV-LS1/LS2 supporting pan (side to side), tilt (vertical) and zoom control from a smartphone or tablet device, as well as high-quality recording and streaming.
2. New innovative and original concept headphones
Newest models from XX (XTREME XPLOSIVES) Series of headphones based on the concept of ultra bass and toughness. New product lineup, from the HA-FX101/FR201 including the new color White, to the HA-FR301 inner ear headphone which like most mid-level models is equipped with a smart switch compatible with the microphone wireless remote controller function on almost all smartphones, will be on display.
Low sound pressure HA-KD6 headphones designed especially for children.
3. Indoor-use portable Bluetooth® speakers
Bluetooth® Wireless Speaker SP-ABT30 equipped with a 360° omnidirectional speaker.
*Technical reference exhibit
Next-generation 4K video camera equipped with our original development high-quality image processor FALCONBRID will be on reference exhibit.
Regarding Trademarks
HDMI® is a trademark or registered trademark of HDMI Licensing, LLC in the U.S. and/or other countries.
MHL® is a trademark or registered trademark of MHL, LLC in the U.S. and/or other countries.
Pandora is the corporate name of the Pandora Internet radio station in the U.S.
iHeartRadio is a registered trademark of Clear Channel Broadcasting, Inc.
Android™ is a trademark or registered trademark of Google Inc.
Bluetooth® and the Bluetooth logo are registered trademarks of Bluetooth SIG, Inc., used under license by JVCKENWOOD Corporation.
drvn is a trademark of JVCKENWOOD Corporation registered in the U.S., Europe and China.
eXcelon is a trademark of JVCKENWOOD Corporation registered in the U.S.
All other company names, brand names and product names are registered trademarks or trade names of their respective holders.
For further information, please contact:
Inquiries from the press

Brand Strategy Division, JVCKENWOOD Corporation
3-12 Moriya-cho, Kanagawa-ku, Yokohama-shi, Kanagawa Prefecture 221-0022
TEL: +81-45-444-5310