NEWS RELEASE
March 24, 2014
Information on the KENWOOD Booth at IWCE 2014

Offering total wireless communications systems under the theme of "The Next Generation"
Yokohama, Japan, March 24, 2014 — JVCKENWOOD Corporation will exhibit at the International Wireless Communications Expo (IWCE) 2014, to be held March 26-27 in Las Vegas, NV, USA.
Under this year's exhibit theme of "The Next Generation", the KENWOOD booth will highlight new product platforms based on NEXEDGE® professional digital radio systems and a variety of solutions for markets ranging from public safety to public service to business and industry.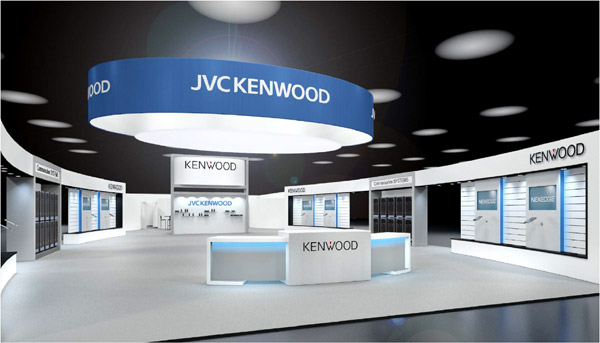 KENWOOD booth (rendering)
JVCKENWOOD's approach and the IWCE 2014 booth concept
In the field of professional wireless communications, the shift to digital technologies has been gaining momentum in recent years, and KENWOOD products have been at the forefront of this trend with NEXEDGE® and Project 25 (P25)* digital solutions. NEXEDGE® digital radio systems have been adopted by public utilities (power, gas, water), local government organizations, transportation companies (rail, bus, etc.) and a wide range of private enterprises; Project 25 (P25)* digital radio equipment has been supplied to the North American public safety market which includes police, fire and emergency management agencies across the U.S. and Canada. Sales have been growing steadily, year on year. Moreover, group synergies enable integration with JVC brand products as well as the products and systems of Group company, Zetron, Inc. — a U.S. supplier of mission-critical communications solutions — to pursue a growth strategy aimed at expanding the JVCKENWOOD business field to include the provision of total system solutions based on wireless technologies. The recent acquisition of EF Johnson Technologies (announced on January 31, 2014) provides an industry leading portfolio of technologies and systems that provide wireless solutions in virtually all user markets.
Under the theme of "The Next Generation", the KENWOOD booth will highlight new platforms based on NEXEDGE® digital technology which drives many key product spaces for the company. Also in the booth, KENWOOD leaps into the future with new LTE/broadband technology concepts for future applications.
* P25 is a suite of professional digital radio standards designed mainly for the US public safety market, including police and fire departments.
Main KENWOOD booth exhibit at IWCE 2014 (booth: 2001)
1. Professional digital two way radio equipped with "all-in-one" dual digital protocol
On the display at the booth will be a two way radio with a newly developed platform having bilateral characteristics of NEXEDGE® for public service/business industry and P25 Phase 1&2 for public safety to meet the need of more expansive market. Further expansion of features such as built-in Bluetooth®, GPS and a renovated GUI are also incorporated.
2. Proposal of solution for public safety linking radio and other devices [Reference exhibit]
JVCKENWOOD is proposing a multimedia system for public safety, combining products such as video console, security camera system and two way radio from JVCKENWOOD group companies and its business partners. With JVCKENWOOD's best-in class data compression technology it makes it possible to transfer moving pictures quickly through the radio network. On the display is a life conservation system for firefighters as a reference exhibit, utilizing infrared camera and bio-monitoring system which enables feedback of firefighters body status on site.
3. KENWOOD Solution Developers
KENWOOD Solution Developers have been invited to display products that enhance the sale of KENWOOD radio & system products with a focus on NEXEDGE® system solutions.
Event summary of 2014 International Wireless Communications Expo (IWCE)
Period: March 26(Wed) – 27(Thu), 2014 -Exhibits-
Venue: Las Vegas Convention Center
Official site: http://www.iwceexpo.com/
Regarding Trademarks
NEXEDGE® is a registered trademark of JVCKENWOOD Corporation in the U.S., Japan and other countries.
Bluetooth® and the Bluetooth logo are registered trademarks of Bluetooth SIG, Inc., used under license by JVCKENWOOD Corporation.
All other company names, brand names and product names are registered trademarks or trade names of their respective holders.
For further information, please contact:
Brand Strategy Division, JVCKENWOOD Corporation
3-12, Moriya-cho, Kanagawa-ku, Yokohama, Kanagawa 221-0022 Japan
Tel: +81-45-444-5310
Or contact your KENWOOD PR representative in your country