NEWS RELEASE
April 28, 2014
JVCKENWOOD Corporation Receives Pinnacle Award From Delphi
JVCKENWOOD Corporation (JVCKENWOOD) hereby announces that it has received from Delphi Automotive LLP (Delphi), a leading global supplier of technologies for the automotive and commercial vehicle markets, a Delphi 2013 Pinnacle Award.
Currently celebrating ten years, this award recognizes a select group of Delphi's premier suppliers for their contribution to Delphi's Excellence culture and commitment to quality, value and cost performance.
JVCKENWOOD regards the device business in the Car Electronics OEM business, which mainly deals with CD/DVD mechanisms for vehicles, as one of its core business alongside the businesses of car navigation systems, factory-installed car audios and dealer option products. Leveraging the industry's top-level product quality, competitiveness and cost performance, JVCKENWOOD will aim to expand the device business while contributing to domestic and foreign car accessory manufacturers.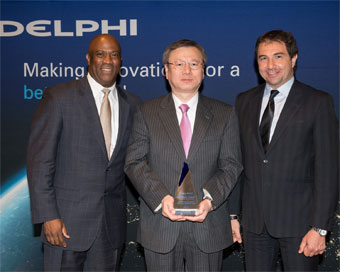 At the award ceremony
"Delphi's supply base is critical to its efforts as a premier global automotive supplier," said Sidney Johnson, senior vice president, Global Supply Management. "Supply partners who exceed expectations, commit to quality and cultivate innovation help Delphi continue to offer game-changing solutions to our customers. Delphi's global team appreciates JVCKENWOOD for their continued excellence in 2013."
Delphi recognized 22 suppliers from 14 countries with its 2013 Pinnacle Award for Supplier Excellence.
Delphi Automotive PLC (NYSE: DLPH) is a leading global supplier of technologies for the automotive and commercial vehicle markets. Headquartered in Gillingham, U.K., Delphi operates major technical centers, manufacturing sites and customer support services in 32 countries, with regional headquarters in Bascharage, Luxembourg; Sao Paulo; Shanghai and Troy, Mich. Delphi delivers innovation for the real world with technologies that make cars and trucks smarter and safer as well as more powerful and efficient. Visit www.delphi.com.
JVCKENWOOD is a global manufacturer specializing in electronics and entertainment products. It was reborn in October 2011 through the merger of Victor Company of Japan, Limited (JVC) and Kenwood Corporation (Kenwood) three years after management integration. JVCKENWOOD operates four business segments, Car Electronics, Professional Systems, Optical & Audio, and Entertainment Software with image, sound, and radio technologies, as well as audio and visual software. JVCKENWOOD creates excitement and peace of mind, while aiming to achieve profitable growth and become a business group that is widely trusted by society.
For further information, please contact:
Media contact

Public & Investor Relations, Corporate Strategy Division, JVCKENWOOD Corporation
3-12, Moriyacho, Kanagawa-ku, Yokohama-shi, Kanagawa 221-0022 Japan
TEL: +81 45-444-5232 FAX: +81 45-444-5239