NEWS RELEASE
November 7, 2014
KENWOOD celebrates its 400th race with the McLaren Mercedes F1 Team
in the 2014 U.S. Grand Prix in Texas since beginning to supply wireless
radio systems to the Team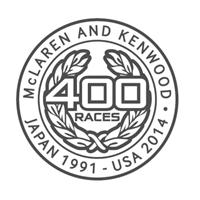 The commemorative logo for the 400th race, created jointly by KENWOOD and the McLaren Mercedes F1 Team
JVCKENWOOD Corporation is pleased to announce that the 2014 United States Grand Prix in Texas (finals scheduled for November 2) mark the 400th race for McLaren Mercedes F1 Team ("McLaren") since we signed an Official Supplier contract with the team to supply wireless radio systems.
1. Partnership with McLaren
KENWOOD entered into an Official Supplier contract with McLaren in 1991 and started supplying wireless radio systems in the Japanese Grand Prix held at the Suzuka Circuit in October of that year. We have been continuously supporting the Team for 23 years—the longest partnership by a Japanese company.
During races, wireless radio systems are used to communicate important information such as race strategy and timing of tire change between drivers and their team staff members. Therefore, they need to be designed to allow communication accurately and certainly under the impact, vibrations and noise conditions which are not experienced in everyday life.
By combining the know-how of wireless radio systems KENWOOD accumulated over the years since its establishment in 1946 and its latest technologies including high-quality sound technology and information encryption and decryption techniques, we have supplied dedicated wireless radio systems based on our original digital method and helped McLaren win many races.
We continue to supply wireless radio systems and provided full technology support by dedicated professional staff to McLaren in the 2014 season as before, and the 2014 U.S. Grand Prix in Texas (finals on November 2) mark the 400th race since we concluded our first Official Supplier contract with the Team. In commemoration of this, we have designed a commemorative logo for the 400th race jointly with McLaren. We will post it to the special page on our company website and use it in various promotional activities to enhance the presence of the KENWOOD brand.
We will continue to provide support to McLaren to contribute to its victory by proposing digital radio systems that are the culmination of the cutting-edge technologies developed based on our long accumulated know-how and research and development activities in this field.
A very large frame containing the endplate of a McLaren car with memorial symbol of 400th races and signed by Sir Ronald Dennis and both of the drivers was given to our CEO Mr.Kawahara. An endplate with memorial symbol was used in the actual car at the U.S. Grand Prix.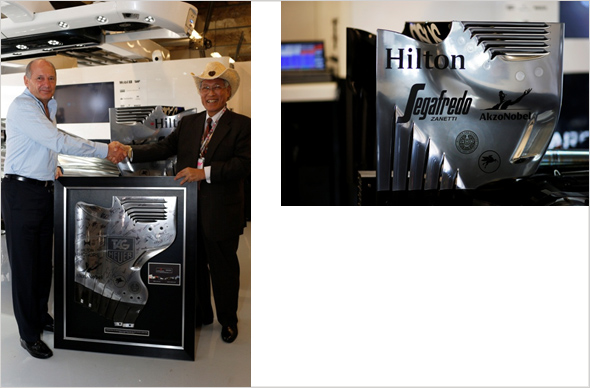 Comment by Ron Dennis, Chairman and CEO of McLaren Group
"During the 400 races that we have been partnering with Kenwood, effective communications have become ever more vital. Race teams succeed or fail based on their ability to communicate and together we have won 86 races. I am extremely grateful for the contribution Kenwood has made to McLaren over the years and I look forward to a bright future together."
McLaren News Release

Comment by Haruo Kawahara, Chairman and CEO of JVCKENWOOD Corporation
"Participating in the most glamorous and yet most punishing motor sport in the world in which the cutting edge technologies of various industries are brought together have become a testimony of our brand presence. We are especially proud that we have kept a long-term partnership with the long-established McLaren Mercedes F1 Team for 400 races over the course of 23 years. By supplying digital radio systems developed by combining KENWOOD's know-how and technologies, we will help the Team win and reach the top yet again."
Our website "KENWOOD with McLaren Mercedes"

2. Wireless radio systems supplied to McLaren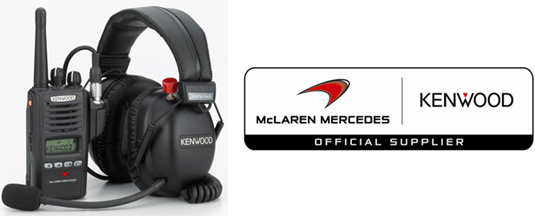 Starting from the 2014 season, KENWOOD will supply new customized digital wireless radio systems designed specifically for the McLaren Mercedes F1 Team based on KENWOOD's NEXEDGE® professional digital radio systems lineup — a series that has been deployed worldwide and has achieved strong top-class performance especially in the business and industry markets of North America, Europe and worldwide.
The NEXEDGE® Series not only demonstrates excellent reliability and performance, even within severe environments, but also offers key features such as voice securing, a noise suppressing function, and wide communication range based on digital signal correction technology and narrowband sensitivity enhancement. NEXEDGE® technology lets the team's drivers and staff exchange prompt and accurate communications even in a racing condition where the levels of impact, vibration, and noise are far beyond what one can normally imagine.
For further information, please contact:
Public Relations & IR Department, Corporate Management Division, JVCKENWOOD Corporation
3-12, Moriya-cho, Kanagawa-ku, Yokohama, Kanagawa 221-0022 Japan
TEL: +81-45-444-5310