NEWS RELEASE
April 10, 2015
Invitation to JVCKENWOOD Booth
at the National Association of Broadcasters (NAB) 2015
Proposing total solutions for professional imaging equipment
"First On Air. First On Line. That's JVC"
JVC KENWOOD Corporation will participate in the world's largest broadcasting equipment exhibition, NAB 2015, organized by the National Association of Broadcasters, from April 13 to 16 (local time) in Las Vegas.
With the exhibition's slogan, "First On Air. First On Line. That's JVC," our Company proposes new solutions evolving from IP live streaming used in the newsgathering field and next-generation solutions featuring new 4K camcorder products targeting broadcasting stations, studios, and other video recording fields.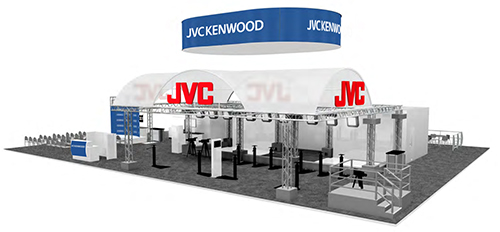 < Image of JVCKENWOOD booth >
Exhibition concept for NAB 2015 (JVCKENWOOD booth: Central Hall #C4314)
Based on the exhibition slogan, "First On Air. First On Line. That's JVC," we offer advanced versions of existing live streaming functions, which have been used by many broadcasters as newsgathering solutions in the professional camcorders market.
Besides the existing ProHD Series of professional camcorders, we have launched the 4KCAM Series lineup, which supports 4K. New products will be displayed that anticipate the 4K era.
Remote camera systems for recording video and projection monitors that accept the featured new technology—high dynamic range imaging (HDR)—will be exhibited.
Outline of JVCKENWOOD exhibition at NAB 2015
◆ New 2015 product lineup for 4K camera systems
1. [New Product] GY-LS300 Professional 4K memory card camcorder equipped with a Super 35 mm 4K CMOS sensor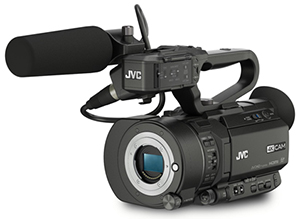 「GY-LS300」
The camcorder is equipped with a 4K Super 35 mm CMOS sensor. Besides mounting a Micro Four Thirds system lens, variable scan mapping technology is integrated to capture video that ensures a native, cinematic viewing angle with a wide range of lenses. An expressive video capturing experience is achieved by maximizing the characteristics of a large sensor and lens. Similar to the GY-HM200, a compact and lightweight camcorder supporting a variety of recording formats, it is equipped with network functions and various other features required of professional cameras, besides 4K.
2. [New Product] GY‐HM200 Professional 4K memory card camcorder for live streaming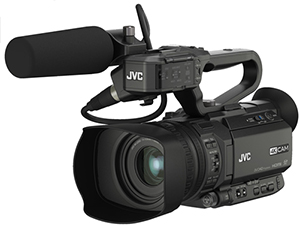 「GY-HM200」
The compact, lightweight 4K handheld camera captures video while minimizing noise, even during HD recording and under a low illumination. Featuring a 4K capability, it is equipped with a newly developed F1.2 optical x12 zoom lens and a 12.4M pixel 1/2.3-inch CMOS sensor. H.264 codec supports 4:2:2 recording at 150 Mbps and 50 Mbps for video recording in 4K and HD, respectively. Further evolving from live streaming provided by existing models and supporting RTMP protocol, video recordings can be directly uploaded to USTREAM and YouTube™. As a professional camera, the camcorder manages to deliver both powerful images and the high mobility of a handheld model.
3. [New Product] GY-HM170 Compact professional 4K memory card camcorder (for sale outside Japan only)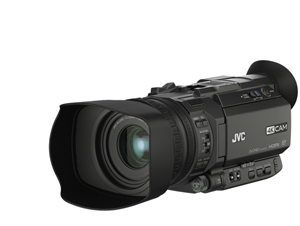 「GY-HM170」
Following the GY-HM200 platform, the model is exclusively for overseas markets outside Japan. It comes in an even smaller package and at a lower price, while offering the fully functional high performance required by professionals. In addition to the built-in microphone and audio input (3.5 mm diameter), live 4K video can be output via an HDMI connector even when recording 4K.
4. [The latest firmware] GY-HM600U/650U/850U/890U HD memory card camcorder
The GY-HM650U/850U/890U deliver advanced content-aware error correction during live streaming. Adaptive bit-rate mode is provided for Internet connectivity. The GY-HM200 and GY-LS300 feature RTMP protocol, a resume feature with file transfer to a FTP server, and other functions added to further improve operability and reliability during live streaming.
◆ Showcasing new camera systems and technologies for next-generation video recordings
1. [Reference exhibition] 4K remote camera system for video recording(by Bradley)
A remote 4K camera system developed in collaboration with UK David Bradley Engineering Ltd. is showcased. Pan, tilt, and zoom operation can be controlled remotely. The camera head is equipped with a 4K Super 35 mm image sensor. 4K video signals can be output from a remote camera through a single fiber cable. The remote camera system is ideal for studio recording and video recording sports events.
2.[Reference exhibition] HDR rear-projection system & HDR camera
By adding high-intensity technology to the high-contrast technology of our unique D-ILA device, two models of a rear-projection system, 4K 70-inch and 2K 36-inch, offer a high dynamic range (HDR) experience. Enjoy the experience of vivid, realistic recorded video captured by an HDR camera, which is also exhibited.
3.[Reference exhibition] Camera/video unit separation type 4K camera system
The system consists of a compact, lightweight 4K camera unit equipped with a 4K Super 35 mm image sensor and Micro Four Thirds system, a video unit with a desorption-foldable 7-inch full HD LCD monitor, and a control unit. Ease of installation and remote operation are achieved by separating the camera unit. Recording in 4K is offered for professional video.
Outline of NAB 2015
Exhibition name : NAB2015
Organizer : National Association of Broadcasters
Period : Monday, April 13 – Thursday, April 16, 2015 *Exhibition period.
Venue : Las Vegas Convention Center
Official website : http://www.nabshow.com
Regarding Trademarks
Micro Four Thirds and Micro Four Thirds logo are trademarks or registered trademarks of Japan, the United States, EU and other countries of Olympus Imaging Corporation.
HDMI, HDMI logo, and High-Definition Multimedia Interface are trademarks of HDMI Licensing LLC or registered trademarks in the United States and other countries.
YouTube™ is a trademark and registered trademark of YouTube LLC.
Ustream is a trademark of Ustream, Inc.
D-ILA is a trademark or registered trademark of JVC KENWOOD Corporation.
The company and product names described are trademarks or registered trademarks of their respective owners.
[CONTACT FOR PRESS] Public Relations & IR Department, Corporate Communication Division,
JVCKENWOOD Corporation
3-12, Moriya-cho, Kanagawa-ku, Yokohama, Kanagawa 221-0022 Japan
TEL: +81-45-444-5310