NEWS RELEASE
August 20, 2015
Winner of EISA European Best Product of the Year Awards

~In-Car Head Unit Award 2015-2016 KENWOOD 'DNX7150DAB'~
JVCKENWOOD Corporation announces that 'DNX7150DAB,' Car Navigation System, have received the EISA (European Imaging and Sound Association) 2015-2016 Best Product of the Year Award for In-Car Head Unit categories, which is among the most prestigious awards for electronics products in Europe.
Introducing the Winner
■ Winner of In-Car Head Unit Award 2015-2016: KENWOOD 'DNX7150DAB'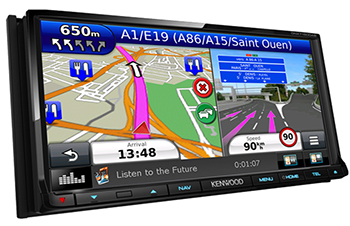 <DNX7150DAB>
DNX7150DAB is equipped with 7-inch WVGA touch panel display, and the navigation engine developed by Garmin Ltd, known as a leading company in portable navigation business. This has kinds of audio formats and connectivity, CD/DVDs playback, hands-free mobile phone operation with Bluetooth®, and music/video playback from iPod®/iPhone®. Also it has built-in HDMI®/MHL® terminal to offer mirroring connection to smartphone. Of course its DAB+ tuner gives you enjoyment of digital radio broadcasts throughout Europe. In addition to that above, with 3 years free map update and INRIX TRAFFIC 2 years trial version, you can be satisfied with its good navigation and AV function.
Reasons for Winning (Excerpted from EISA Comments)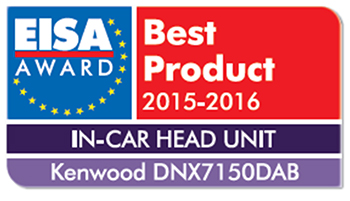 The Kenwood DNX7150DAB is quite simply the most complete head unit in the market today. In addition to providing your dashboard with a pan‐European navigation system, it also boasts outstanding smartphone connectivity, Bluetooth for audio streaming and hands‐free calling, digital and analogue radio, DVD playback, USB, SD, HDMI and compatibility with an extensive set of audio and video formats ‐ including FLAC and MKV ‐ guaranteeing high quality AV performance at all times. Meanwhile the digital signal processor offers accurate equalizing, crossover and time alignment. And because of its ubiquitous 2DIN housing, it fits most current cars. When it comes to features and quality, the DNX7150DAB simply refuses to compromise.
Regarding EISA Award
EISA Awards are given to new products that offer a combination of leading-edge technology, valuable features, advanced design, and superior cost-performance. Also known as the European Awards, the fame and authority of these EISA Awards are recognized by consumers and manufacturers alike as proof of excellence. EISA is an organisation comprised of editors representing renowned European based magazines in the fields of Audio & Home Theater, In-Car Electronics, Photo, Video, Mobile Devices and Green. It was established in 1982 and currently membership has reached over about 50 magazines from 22 European nations. Each year,they select the best products in Audio & Home Theater, In-Car Electronics, Photo,Video, Mobile Devices and Green, from manufacturers all around the world, and bestow their prestigious award.
Regarding Trademarks
iPhone and iPod are trademarks of Apple Inc.
Bluetooth® is a registered trademark of Bluetooth SIG, Inc. in the U.S. and/or other countries.
INRIX® and the INRIX logo are registered trademarks and the INRIX TRAFFIC logo is a trademark of INRIX, Inc.
HDMI® is a trademark or registered trademark of HDMI Licensing, LLC in the U.S. and/or other countries.
MHL® is a trademark or registered trademark of MHL, LLC in the U.S. and/or other countries.
All other company names, brand names and product names are registered trademarks or trade names of their respective holders.
For further information, please contact:
Public Relations & IR Department Corporate Communication Division, JVC KENWOOD Corporation
3-12, Moriya-cho, Kanagawa-ku, Yokohama, Kanagawa 221-0022 Japan
Tel: +81-45-444-5310