NEWS RELEASE
August 31, 2015
New JVC and KENWOOD products enrich people's lifestyles


Details Announced for the JVCKENWOOD Booth at IFA 2015,
the World's Largest Consumer Electronics Exhibition


~ Concept car equipped with next-generation digital cockpit system to revolutionize car lifestyles to be exhibited ~

JVCKENWOOD Corporation will exhibit at IFA 2015, the world's largest tradeshow for consumer electronics, to be held from September 4 (Fri) to 9 (Wed) at the Messe Berlin exhibition site in Berlin, Germany. Both the JVC and KENWOOD brands will be featured. On exhibit will be new products in car electronics — in which JVCKENWOOD enjoys a significant share of the European market, representing the automotive category positioned to spearhead business growth. In the media service business that serves as the company's revenue base, new products that propose various ways to enjoy life at home and outdoors will be introduced. What's more, the CAROPTRONICS*1 technology that is being developed for commercial applications will be featured in digital cockpit-equipped show car that will be on display. Our activities in OEM factory-installed automotive equipment for the European market will also be introduced.

*1 "CAROPTRONICS": JVCKENWOOD's own name that applies optoelectonics technology to in-car equipment.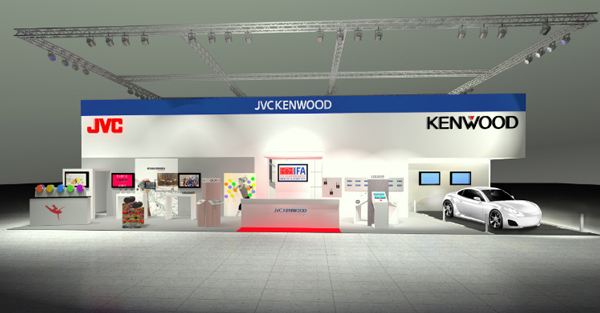 JVCKENWOOD booth (artist's impression)
JVCKENWOOD Booth (Hall 2.2, Stand 108)
◆Automotive field, Car Electronics – main exhibits
1) KENWOOD DNN9150DAB flagship model Wi-Fi® Network Navigation System which realizes deluxe texture and high quality sound as well as comfortable operation.
2) Broad lineup of JVC/KENWOOD brand products supporting DAB (Digital Audio Broadcast) for which demand is growing in Europe.
3) Exhibit of product lineup offering wireless mirroring and Siri® Eyes Free, audio accessories and original apps that enable wireless interoperability and enjoyment of smartphones.
4) KENWOOD DNX7150DAB Car Navigation System (winner of EISA Award for In-Car Head Units 2015-2016).
5) JVC KW-V51BT AV Receiver that provides comfortable control of smartphone via a wide range of connections including HDMI®/MHL® and Bluetooth®.
◆Media service field – main exhibits
1) Headphone Lineup

New Bluetooth® equipped SPORT Inner-ear Headphones HA-EBT5 ideal for sports, and Headband-type Portable Headphones HA-SBT5.
SPORT Headphone series lineup ― HA-ETR40/ETX30/EBR25/ECX20/ENR15/EN10
XX for Club Sound series HA-SBT200X/SR100X reproduce tight bass as well as crisp mid-range and highs.
On-ear Lightweight Portable Headphones HA-SR525/SR225/SR185 let users enjoy high-quality audio, anywhere.
New KENWOOD brand headphones KH-KR900/SR800/CR500 offer stylish and elegant design, and high-quality sound reproduction.
2) Professional/Consumer Camcorder Lineup

Shoulder-mount Camcorder GY-HM70 (overseas model) allows long-hour recording with built-in double battery dock.
Double-slot 4K Memory-card Camcorder GY-HM170 (overseas model).
"All-Weather Cam" Everio Camcorders GZ-RX515 and GZ-R315 with Quad-Proof Structure (water-, dust-, freeze- and shock-proof), plus an internal 5-hour battery for extended shooting.
3) New line of 4K-precision D-ILA Projectors offering high brightness

New D-ILA Projectors optimized with high-brightness and high-contrast to reproduce high-resolution 4K video images will be on exhibit. New product demonstrations will be held in a theater room adjacent to the booth.
◆"CAROPTRONICS" - main exhibits
Revolutionary New Driver Support System to facilitate driver safety and safe driving [Reference exhibit]
A show car equipped with a concept model of the Digital Cockpit System that JVCKENWOOD is developing for future commercial release, comprised of head-up display, car-mounted HD cameras, digital mirror and more, will be exhibited for the first time in Europe.
(Major elemental technologies that make up the Digital Cockpit System)
High-resolution Head-up Display
Next-generation Digital Instrument Cluster
Advanced, High-resolution Digital Mirror
High-visibility Around Vision Camera System
FIR (Far Infra-Red) Camera System
Infotainment Display
◆OEM automotive business in European market
The newest member of the JVCKENWOOD Group, ASK Industries S.p.A. and our roles in the OEM automotive business will be introduced. ASK holds an outstanding track record in providing car-mount speakers, amplifiers, antennas and other car-mount parts to major European automobile manufacturers. Utilizing the company's asset of solid partnerships with automotive companies and strong sales channels, we will aggressively expand into the OEM business in the future.
Regarding Trademarks
Wi-Fi® is a trademark or registered trademark of the Wi-Fi Alliance®.
Siri® is a trademark or registered trademark of Apple Inc.
HDMI® is a trademark or registered trademark of HDMI Licensing, LLC in the U.S. and/or other countries.
MHL® is an abbreviation for Mobile High-Definition Link. MHL, MHL logo and Mobile High-Definition Link are trademarks or registered trademarks of MHL, LLC in the U.S. and/or other countries.
Bluetooth® and the Bluetooth logo are registered trademarks of Bluetooth SIG, Inc., used under license by JVCKENWOOD Corporation.
CAROPTRONICS is a name created by JVCKENWOOD Corporation; it is a trademark or registered trademark of JVCKENWOOD Corporation.
XX is a trademark of JVCKENWOOD Corporation.
All other company names, brand names and product names are registered trademarks or trade names of their respective holders.
For further information, please contact:
Public Relations & IR Department, Corporate Communication Division, JVCKENWOOD Corporation
3-12, Moriya-cho, Kanagawa-ku, Yokohama, Kanagawa 221-0022 Japan
TEL: +81-45-444-5310