NEWS RELEASE
June 19, 2017
JVCKENWOOD Group's ASK Receives "Excellent R&D Award"
from Geely Automobile in China in Recognition of Being a Superb Supplier
 JVCKENWOOD Corporation hereby announces that ASK Industries S.p.A. ("ASK"), a wholly-owned subsidiary, has received "Excellent R&D Award" presented to superb suppliers every year by Geely Automobile Holdings Limited ("Geely Automobile"), a Chinese automobile manufacturer which has European car makers Volvo and Lotus under its wing.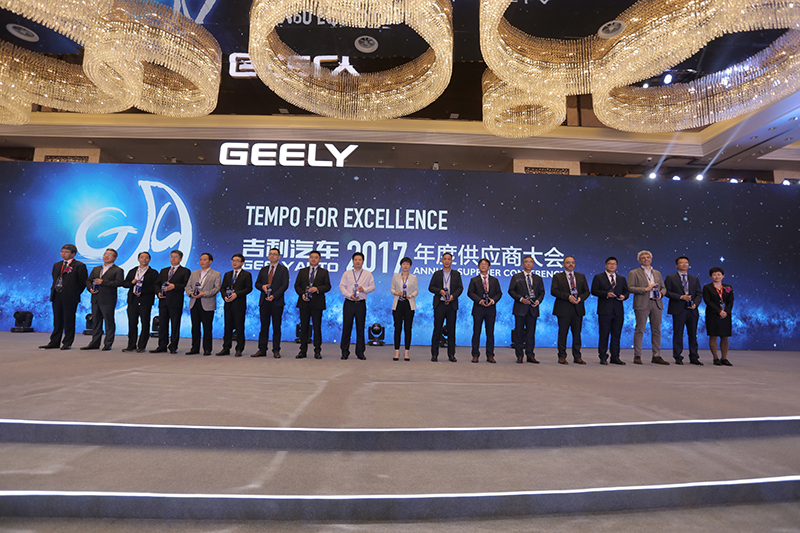 Photo from the award ceremony held on May 8
ASK is an Italian company that has been engaged in the development, manufacturing, and sales of components for automotive audio and communication systems since its foundation in 1967. ASK supplies automotive speakers, amplifiers, antennas, and cable products based on long-standing, strong partnerships mainly with leading European automobile manufacturers. The company, headquartered in Italy, operates globally with its subsidiaries in Germany, France, Poland, Brazil, China, and Tunisia. ASK's performance has been improving in the Chinese and Asia markets in recent years, following its successful operations in Europe and Central and South America.
ASK will aim to expand business further by acquiring more automobile manufacturers as its customers. It will do this by delivering solutions that have been developed in leveraging its industry's leading product capabilities and quality.
For further information, please contact
Public & Investor Relations Group, Corporate Communication Department, JVCKENWOOD Corporation
3-12, Moriya-cho, Kanagawa-ku, Yokohama, Kanagawa 221-0022 Japan
Mail: prir@jvckenwood.com