NEWS RELEASE
February 26, 2018
JVCKENWOOD Exhibits at ECR 2018
Showcasing various medical image display solutions developed by
applying JVCKENWOOD's proprietary image/video-processing technologies
JVCKENWOOD Corporation (JVCKENWOOD) will exhibit at European Congress of Radiology 2018 (ECR 2018), to be held from Thursday, March 1 to Sunday, March 4 at Austria Center Vienna in Vienna, Austria.
This year, the JVCKENWOOD Booth features various medical image display solutions developed by applying our proprietary image/video-processing technologies. These include a new lineup of i3 display series medical imaging displays for PACS with basic features and all-new design and functions, display systems for mammography/tomosynthesis image equipped with a Dynamic Gamma function enabling efficient interpretation of radiograms, and a new accuracy control software solution for medical image displays.
<Unifying Brand for Medical Image Displays to the JVC Brand>
JVCKENWOOD is promoting the transition of the brand for the medical image display business from the TOTOKU brand, one of the top brands in the business for more than 20 years, to the JVC brand. In the future, we will promote unification to the JVC brand, and provide a wider range of solutions in the medical field by offering products that apply our image/video processing technologies developed for the JVC brand.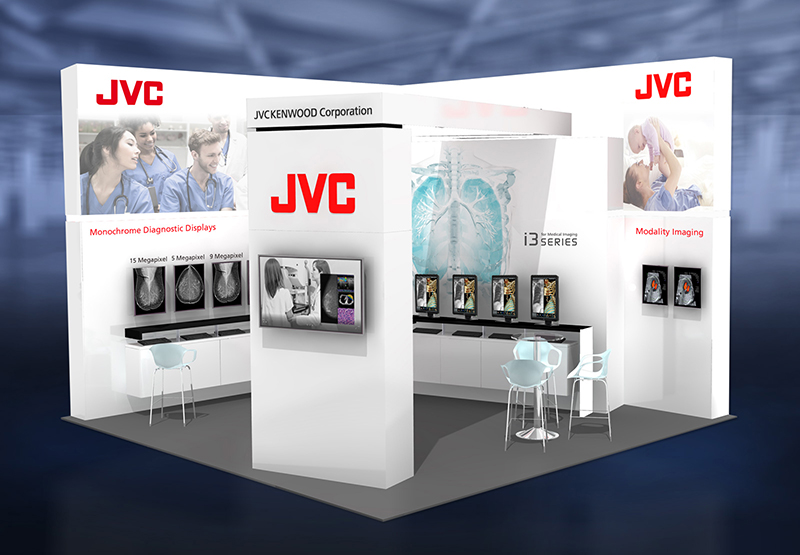 <Main Exhibits> (JVCKENWOOD Booth: EXPO X5 528)
1. New i3 Series of Medical Image Displays for PACS with CL-S300 and CL-S200 Featuring an All-new Design and Functions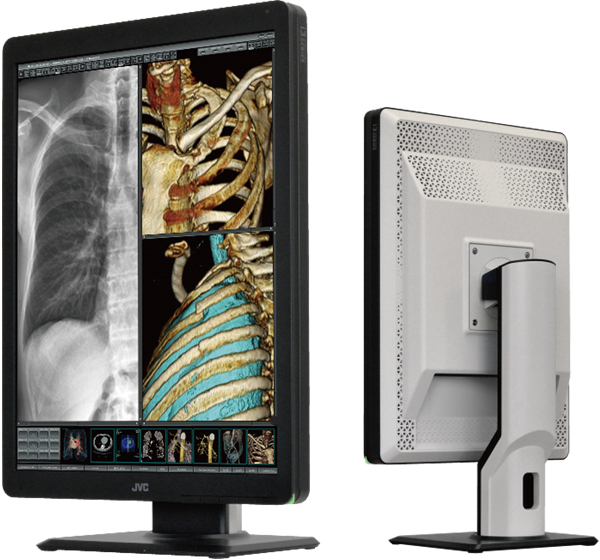 We will exhibit the i3 series CL-S300 (3 million pixels) and CL-S200 (2 million pixels) 21.3-inch color LCD monitors in a new lineup of medical image displays. This series of medical image displays features a color front sensor built into the screen and QA Medivisor Agent LE display calibration software bundled with the display system for easy correction of luminance, gradation, and chromaticity of image data, and enabling high-definition reproduction of DICOM-conformant grayscale images recorded in monochrome. For this series, we have improved stability when displaying monochrome and color images in high definition and optimal contrast based on our proprietary Dynamic Gamma function, which was well received with our existing models. In addition, the new model adopts a new design, which is intended to improve the efficiency of interpreting radiograms and provide good compatibility with modality devices. This model was developed with the focus on a user-friendly and easy-to-view monitor, as well as a space-saving design, which makes it adaptable for use in various work environments.
2. CCL550i2/MS55i2plus Medical Image Display Systems for Mammography/Tomosynthesis Images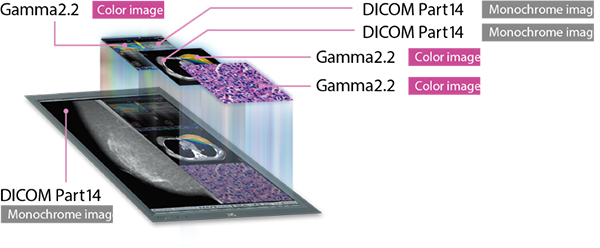 We will exhibit the CCL550i2, a 5-million pixel 21.3-inch color medical imaging display equipped with a Dynamic Gamma function, which enables automatic contrast correction to provide optimized contrast in monochrome mammography/ tomosynthesis images for breast cancer diagnosis, as well as color images, such as images from ultrasound diagnostic equipment, CT/MRI, and pathology. We will also display the MS55i2plus, a 5-million pixel 21.3-inch monochrome medical imaging display with improved visual contrast resolution, which is achieved using independent sub-pixel drive technology and 1000cd/m2 high calibrated luminance, to display higher resolution and definition mammography/tomosynthesis images. This product also features the auto text mode, enabling automatic brightness control for text data based on the area displaying white included in patient listing and reporting applications to reduce eye strain. Both models have received the approval of the US Food and Drug Administration (FDA) for breast tomosynthesis/digital mammography.
3.QA Medivisor Agent Software Solution for Accuracy Control of Medical Displays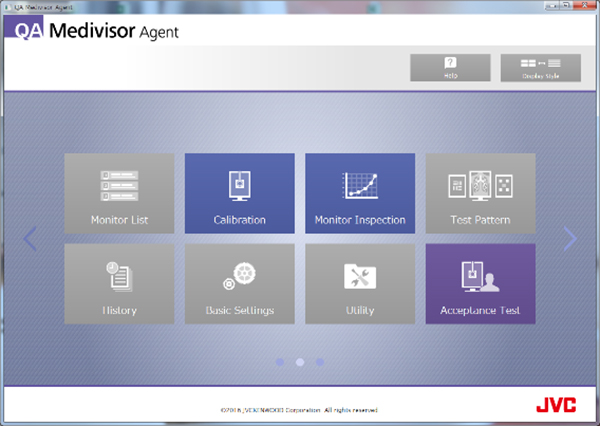 We will exhibit the QA Medivisor Agent software solution, a new accuracy control software solution for medical image displays, which performs one-stop acceptance tests, invariance tests, calibration and DICOM conformance tests, etc., to maintain the display status quality of medical display monitors installed in medical environments, in conformance with various guidelines. The software solution is equipped with a variety of functions to reduce the burden of maintenance, such as scheduling automatic execution of different functions. With its all-new user interface, the new software provides users with a user-friendly experience.
Outline of European Congress of Radiology 2018 (ECR 2018)
Exhibition period

:
Thursday, March 1 – Sunday, March 4, 2018
Technical exhibition

:
Thursday, March 1 – Saturday, March 3, 2018: 10:00 - 17:00
Sunday, March 4, 2018: 10:00 – 14:00 (local time)
Organizer

:
European Society of Radiology
Venue

:
Austria Center Vienna, Vienna, Austria
The official website

:
<Trademarks>
QA Medivisor Agent is a trademark or registered trademark of JVCKENWOOD Corporation.
All company names and product names contained in this press release are trademarks or registered trademarks of their respective holders.