NEWS RELEASE
November 7, 2018
JVCKENWOOD Exhibits at HOSPEX Japan 2018

OR imaging system solutions for improving safety, maintaining hygiene, and achieving efficient operations in operating rooms
JVCKENWOOD Corporation (JVCKENWOOD) will exhibit at HOSPEX Japan 2018, to be held at the Tokyo Big Sight from Tuesday, November 20 to Thursday, November 22.
This year, the JVCKENWOOD booth will mainly exhibit visualization solutions for the unified management of imaging information (biological information, X-ray information, operation field/operation site images, endoscope images, and robotic operation images, etc.), used frequently in operating rooms and designed for improving safety, maintaining hygiene, and achieving efficient surgery operations in operating rooms. Through the application of sophisticated information and digital technologies, our visualization solutions can accommodate sophisticated systems and an increase in the flow of information in operating rooms, as well as connect to various advanced medical equipment, in-hospital information systems, and department systems, while facilitating a smooth operation workflow and creation of safe and hygienic operating environment.
In addition, we will prepare a reference exhibit of the KooNe high-resolution sound space design solution that brings a sense of security to operating rooms, as well as a one-plug fiber solution (VoIP) that supports advances in imaging information.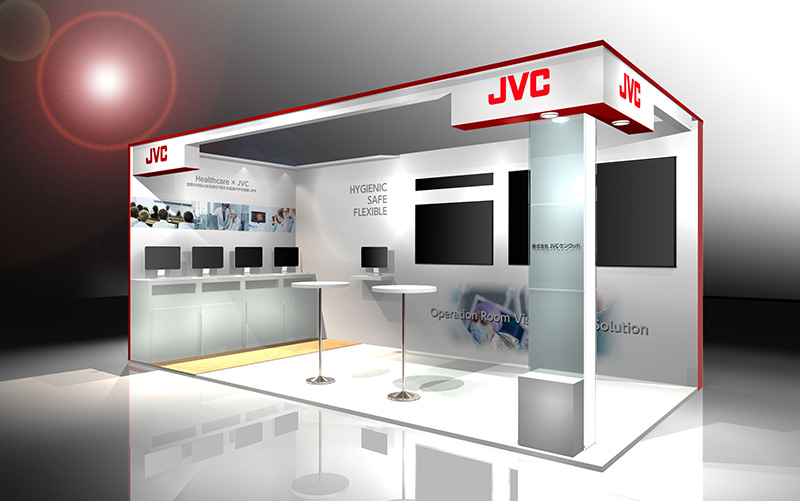 Main Exhibits of JVCKENWOOD at HOSPEX Japan 2018 (JVCKENWOOD Booth: 2B-106)
1. Operating Room Visualization Solutions
We will exhibit visualization solutions that provide customization with the assumption of use in operating rooms, according to users' needs. Our solutions can be linked to information stored in an in-hospital information system, including information on patients, operators, and operative procedures; support switching to video output to monitors in operating rooms according to operative procedures; and, deliver recordings of videos and still images, as well as live streaming of videos. Our solutions also offer consultation functions in which operative field images and biological information, etc. are shared with medical offices and conference rooms, or are utilized for training of medical practitioners, as well as simple editing functions after operations, in which recorded images and information are utilized for preparing reports and making presentations at academic conferences. In addition, our solutions support customization of GUI according to the operation management of hospitals and connection to various in-hospital information systems (PACS, anesthesia system, HIS, etc.).
JVCKENWOOD's broad lineup of various operating room monitor displays adopt flat and wall-mounted designs for uncluttered and simple operating rooms, ease of preparation before operations and cleanup after operations, and securing working traffic lines during operations. Our solutions support efficient operation and improvements to the environments of operating rooms from before until after operations.
1.1. Software solution for unified management of visualization information inside and outside operating rooms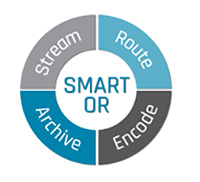 Our software solution enables smart and unified management of routing, encoding, archiving, and streaming of various visualization information needed for operations. Our software solution supports switching of images in operating rooms and enables the sharing of intraoperative images and the use of archived images at conference rooms, medical offices, lecture rooms, etc. Furthermore, our software solution can be connected to systems specific to hospitals and provides flexible customization according to users' needs.
1.2. A lineup of wall-integrated monitor systems for operation and display that can be embedded flat into the walls of operating rooms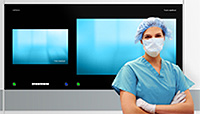 We will exhibit wall-integrated monitors for operation and display that can be embedded flat into the walls of operating rooms. Our monitor systems adopt a glass panel for the front surface for dust resistance and ease of cleaning. Our monitor systems come in a wide variety of lineups covering screen sizes from 21.5 inches to 75 inches, and have a broad range of mounting brackets available to suit various wall materials of operating rooms.
1.3. Surgical monitor systems for ceiling arms pay attention to maintaining a clean environment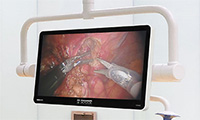 We will exhibit a ceiling-mounted surgical monitor with a glass-coated panel on the front surface and that pays attention to maintaining a clean environment by adopting drip-proof (IP54-compliant) specs and ventless and fanless designs. With a lineup of models with screen sizes ranging from 21.5 inches to 32 inches, our surgical monitor systems support various GIUs, such as DisplayPort, DVI, HDMI, VGA, and SDI.
1.4. Information display monitor systems that simultaneously display information on the operating room environment

We will exhibit information display monitor systems that can simultaneously display current time, stopwatch, and information on the operating room environment, such as temperature and humidity, as well as an "ON AIR" sign indicating that live streaming videos are on air. Types of information displayed can be customized according to the combination of information to be displayed.
1.5. VN-H557 HD network combination camera ideal for operating site camera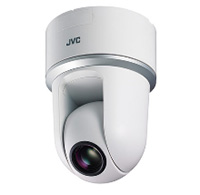 The VN-H557 supports Full HD resolution and H.264 codec and comes with a high-speed rotating platform and a high-precision 10x zoom PTZ function. The product is also equipped with extensive security functions, such as present position registration, auto pan, and anomaly detection, making it an ideal operating site camera.
1.6. Other major exhibits
Bluetooth® foot switch that allows operators to recording videos and still images allowing operators to capture images without missing any key moments.
The audio space switching function for switching the audio environment in an operating room.
Linkage with visual communication software (with annotation functions).
Linkage with software that intuitively search and edit recorded images.
2. KooNe space sound design solution provides a sense of security and comfort in operating rooms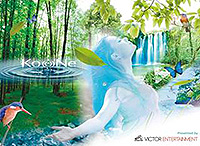 We will exhibit the KooNe space sound design solution, which reproduces sounds found in nature, such as forest, river, and wave sounds, through high-resolution audio. KooNe adopts a unique sound design in which speakers are set up in such a way that indirect sound, not direct sound, is heard at the listening position to provide a sense of security and comfort in operating rooms. It helps reduce the anxiety of patients walking into the operating room and relief excessive tension of medical staff during an operation.
3. One plug fiber solution (VoIP) supports sophisticated imaging information in operating rooms Reference Exhibit
We will prepare a reference exhibit of a one plug fiber solution (VoIP) that supports sophisticated visualization information in operating rooms. The solution is designed to integrate connections between various pieces of medical equipment (endoscope, microscope, artificial heart-lung apparatus, biomonitor, etc.) brought into operating rooms and imaging display systems through the same optical fiber connector, for ease of streaming and control, as well as improving scalability and flexibility, of images and information in hospitals.
Outline of HOSPEX Japan 2018
Exhibition period

:
November 20 (Tue.) to November 22 (Thur.), 2018: 10:00 – 17:00
Organized by

:
Healthcare Engineering Association of Japan, Japan Management Association
Venue

:
Tokyo Big Sight (Tokyo International Exhibition Center) East Hall; 3-11-1 Ariake, Koto-ku, Tokyo 135-0063
Official website

:
<Trademarks>
KooNe is a trademark or registered trademark of JVCKENWOOD Victor Entertainment Corporation.
Bluetooth® and its logo, being registered trademarks of Bluetooth SIG, Inc., are used by JVCKENWOOD under license from the company.
All company names and product names contained in this press release are trademarks or registered trademarks of their respective holders.