TRANSLATION - FOR REFERENCE ONLY -
NEWS RELEASE
Development Announcement
September 30, 2009
Proposing a new lifestyle combining audio, video and communications


JVC Kenwood Develops Home AVC RYOMA(Tentative)

JVC KENWOOD Holdings, Inc. (JVC Kenwood) has developed Home AVC RYOMA(Tentative), combining audio, video and communication functions, as the first of some new product lineups which are expected to propose new lifestyles for the digital network era and constitute new business domains. With RYOMA(Tentative), users can enjoy varied visual and music contents. RYOMA(Tentative) is slated to be launched next spring.


RYOMA(Tentative)
Overview of development of RYOMA(Tentative)
1. Home AVC center or unit that helps users enjoy varied video and music contents
RYOMA(Tentative) is equipped with a blue-ray disk recorder, hard disk drive (HDD), digital high-vision tuner, FM/AM radio tuner and digital amplifier. For the first time in the industry*, these parts have been consolidated into a single product.
With RYOMA(Tentative), users can freely enjoy a variety of video and music contents in their living room in a variety of ways. For example, users can watch digital hi-vision TV broadcasts, blue-ray disks and DVDs, record not only high-definition images in digital hi-vision format but also FM/AM radio broadcasts, and listen to digital hi-vision TV broadcasts, blue-ray disks, DVDs, CDs and FM/AM broadcasts in high-quality sound.
* As of September 30, 2009
2. Use of a digital amplifier based on high-quality sound technologies and know-how of JVC and Kenwood
With this amplifier, JVC Kenwood has realized high-precision signal amplification which thoroughly eliminates interference and noise that affect the music signals input into the amplifier. To achieve this, we applied digital amplification technologies that Victor Company of Japan, Limited (JVC) and Kenwood Corporation (Kenwood) have cultivated in the pure audio field.
By connecting a speaker to this amplifier that enables meticulous and expressive reproduction of music, users can enjoy watching and listening to digital hi-vision broadcasts and radio music programs in high-quality sound, and should be impressed with the sound.
3. Intuitive interface created by new UI design
We have developed a new and unique user interface (UI) design that allows users to intuitively and quickly select what they want to watch, listen to and record from among various visual and music contents.
New UI design: Image of top screen "A/V Start Menu"

(Audio contents selected)

(Visual contents selected)
4. Use of new network service M-LinX(Tentative)
(For an overview of the M-LinX(Tentative) service, please refer to the M-LinX(Tentative) development release published today.)
With the M-LinX(Tentative) service, which adopts our proprietary technology to limit broadcasting service, users can enjoy clear radio broadcasts even in poor reception areas where there are radio disturbances.
We are also developing technical specifications for the new service that will enable users to receive additional data such as images in addition to voice.
Reason for developing RYOMA(Tentative)
With the spread of terrestrial digital broadcasts, large and thin-screen TVs have been increasingly playing a key role in the living room, because such TVs allow people to watch various hi-vision broadcasts such as movies and dramas with an excellent, impressive image quality.
Meanwhile, those who want to listen to their favorite music in the living room need to operate audio equipment separately, and the space for audio equipment has become smaller in the living room due to the large TVs. This makes it difficult to enjoy music at home.
Radio broadcasts have taken hold among people as a medium that has strong characteristics and allows them to enjoy music readily. However, due to radio disturbances caused by objects such as high-rise buildings and condominium, people may feel unsatisfied with the radio broadcasts sound quality at home.
Given the above, we believe that latent needs are increasing for equipment by which in the living room users can readily reproduce and record various kinds of visual and music contents, such as digital hi-vision broadcasts, blue-ray disks, DVDs, CDs and FM/AM radio broadcasts, in high-quality images and sound, without being inconvenienced by having to switch equipment or carry out complicated operations.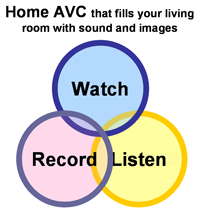 Since its foundation in October 2008, JVC Kenwood has worked for the past year on awakening latent needs through the integration of the video, audio and wireless communication technologies of JVC and Kenwood at a high level, as well as on developing unconventional products and services appropriate to the digital network era that bring surprises and change to everyday lifestyles.
As the first of such products, RYOMA(Tentative) has been developed under the concepts of "a true integration of audio, video and communications" at home and "a new home audio era." Linking the new product with M-LinX(Tentative), a new concept network service that integrates broadcasting and communications, we will provide clear, high-quality digitized sound even in poor reception areas, new media that combines radio sound and moving/still images, and a two-way information exchange. With the new product and service, we will give customers surprises and sensations that they have never before experienced, and propose new lifestyles.
For queries regarding this article, please contact:
Media Contact:

Public and Investor Relations, Strategic Corporate Planning Division, JVC KENWOOD Holdings, Inc.
Tel: +81-45-444-5232 Fax: +81-45-444-5239 E-mail: prir@jk-holdings.com
3-12, Moriya-cho, Kanagawa-ku, Yokohama, Kanagawa